Entry Writchal #2
Tema: Highschool Romance
---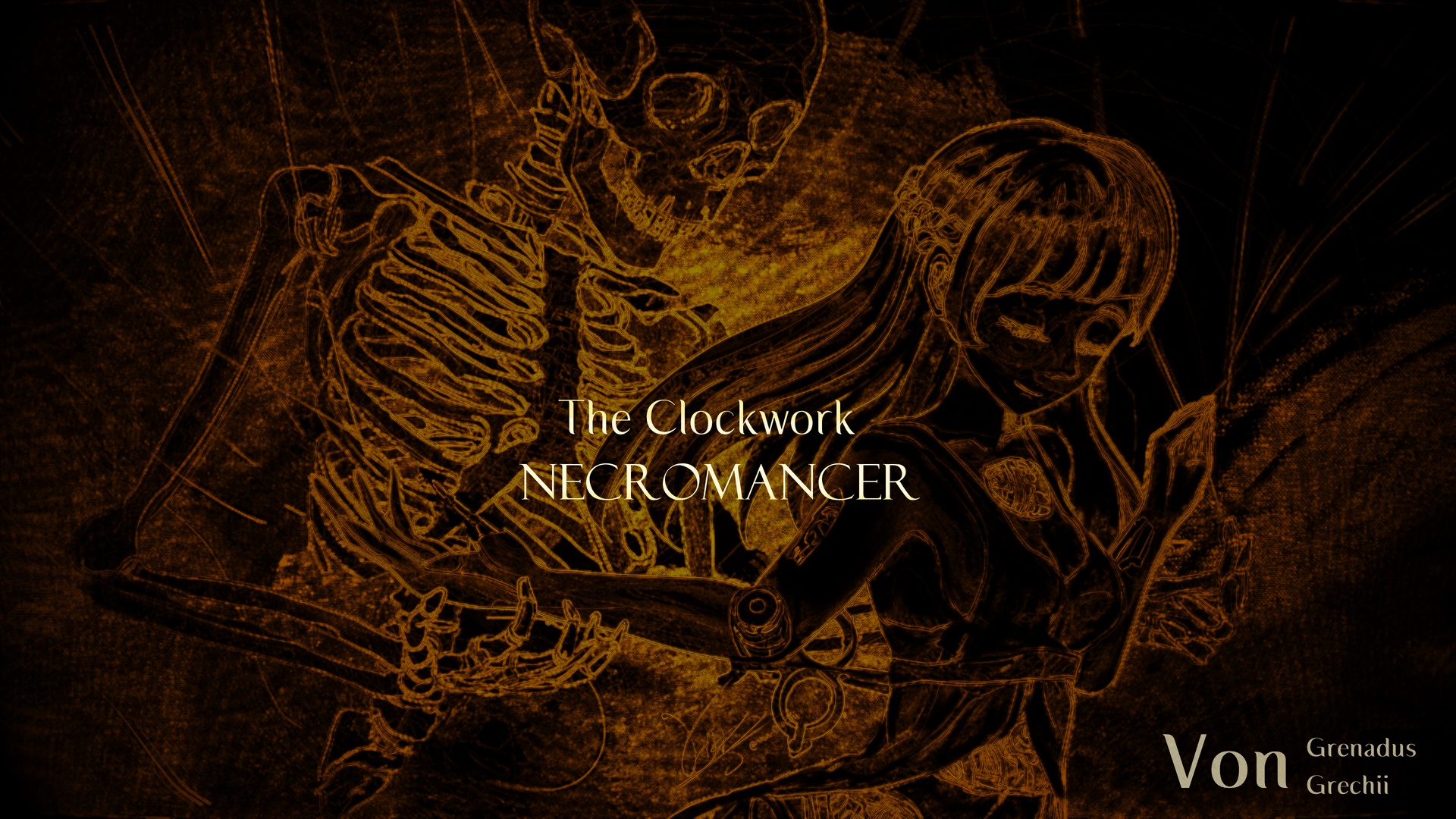 The Clockwork Necromancer (Beginning)
What is darkness?
According to Orkellian issued science book, it is a state of lightlessness, an absent of light that means no reflection for our eyes to capture, which made the eye unable to process their respective surroundings. That is what Miklos Solstice is seeing right now, utter darkness.
Not for any grand reason though. He's not blind, he's not being philosophically deep, nor is He on the verge or death or something. It was dark simply because he deliberately shut his eyes off, despite being consciously wide awake after the alarm clock rang several minutes ago.
It's been about four minutes, usually what'll happen next is…
… Suddenly the pitch black he's looking at turned into a dim red, the subsurface scattering colour of the skin, signifying the presence of light.
            "Dear Miklos, wake uup~"
A soft voice called out his name. What'll happen next is the warmth that enveloped him would be gone, replaced by the biting cold of the morning as his mom pulled the blanket away from him. Miklos grunted, and then rise up, sitting on the edge of his bed as his mom greets him with her usual smile.
            "Breakfast is ready, I cooked your favourite, as usual."
He then stood up, towering over her as she looked up to me, still with her smiling face.
            "Look at you, so tall and all grown up." She said, raising her hand to match with her son's height, something which she seemed to struggle with.
His mom, unlike him, she's pretty short. She looked at him with her gleaming red eyes, and he looked back at her with his deep-blue eyes. his short black hair contrasted her shiny long chesnut brown hair. Her roundish, doll like face tilted up, pointing to his rugged horse face.
She giggles like a child, beaming and smiling happily at him. Miklos made little effort to return her morning greeting.
            "Morning, mom." He said, with only a soft grunt, in response to her words.
She smiles again and walked out the room.
            "I'll be waiting for you downstairs~"
Miklos sighed, waiting a long minute before moving his body and walk out of his room. After washing his face and getting a change of cloth, Miklos walked downstairs to grab his breakfast. It's ham sandwich, shaped to resemble that of a bear and a giraffe. Something which he absolutely adores… when he was still a child.
            "Today is your first scouting assignment, isn't it?" Her mom asked, standing in front of the sink on the kitchen that lie just beside the dining room.
            "Mmh." He replied unenthusiastically, as he bit off the giraffe's head.
            "Wah, congratulation Miklos! I can't believe you've grown up so much!" her mom exclaimed excitedly.
Miklos just went back to chewing.
            "Time really flies fast, isn't it? Remember when I first present you the orange fruit? You used to call it 'Oreij.' Hehe!"
He finishes his sandwich. Standing up unceremoniously as he walked towards the exit without her mom looking.
            "Or that one time when you first tried riding a bicycle and-"
            "I'm heading out, mom."
            "Huh… Ehh? So fast? But I haven't even sat down on the table with you yet." her mom said, strolling after her son.
            "Why, you don't need to eat anyway, right?"
            "But, but… We haven't talked…"
            "Sigh…"
Miklos turned back towards his mother and said "What to talk about… oh, right, let me answer your template questions. Yes mom, I'm fine, no mom, I'm not sick, yes mom, my grades are going well, no mom, I don't have a girlfriend yet, what else there is… I think that's it. Are you happy now?"
            "Miklos…" There was a silent pause as Miklos looked at his mother for a while, staring as if waiting for her to say something else.
"Miklos… I'm sorry that I don't know what to talk about around you." she said with a glisten in her eye "I'm sorry that I no longer watches whatever it is you're watching, or followed whatever it is you followed, but mom promised to do better, so, listen, please-"
That irked him badly, not because she is wrong, but exactly because she is correct. He knew it's a stupid reason, but he can't help to feel that way for whatever irrational reason, he's aware that he's in the wrong, but is unwilling to admit it. So instead of listening more to what she had to say, he immediately leaves for the door and exits the house. His mom watches for a moment before running towards him, grabbing his hand, and stopping him. He was about to pull his hand away and look at her with annoyance, until he turned back and saw a single tear trickled down her cheek, falling down her face as she looked up at him with her teary eyes. A face so uncharacteristic of her.
            "Please! listen to me" The annoyance in Miklos's head was extinguished almost immediately "The world outside of the city is a very dangerous place. Please, please come back home safely, okay?"
Miklos looked down at her, it is quite obvious that he is her adoptive son, but she's still his mother nonetheless, the one person who cared and raised him all this time. Even though for whatever reason, his mother seemed to be stuck in time, never seemed to grow older than what she looked like now. Today, he's going to leave the city as part of the youth scouting regiment, he won't be seeing his mom again for a while. With a good chance that He might not see her anymore.
With a little stab of guilt, Miklos sighed, and kneeled down to match her height.
            "Yes mom, I promise I'll return home."
A smile formed again on her face, even though the trace of worry still lingers, she hugged her son tightly. It took Miklos a while before he returned it. She kissed him on the forehead before letting him go.
            "Have a safe trip, Miklos."
            "Yes mom."
            "Here, take this pendant, it'll protect you." She said, handing Miklos a brass necklace.
The skies outside are dark, as it always had been. Brass coated chimneys towers in the distance, endlessly spewing out steam vapour and blue smog. The morning streets were filled with countless mechanical constructs, walking hitherto to carry out their programmed duty. Few people could be seen walking amongst the clockwork men, including Miklos. As his sight slowly disappeared, she still stood on her spot, clasping both her hands on her chest.
            "Miklos… come back soon…" she said, in murmur. "It's so lonely here…"
****
Orkelliopolis, the last of the great human city state on the Arrovial continent. The city that never sleep as the sound steam forges and mechanical gears could be heard all day all night. The rattling and clanking sound of the clockwork men, a common sight on Orkelliopolis. A man made humanoid construct build to bolster the dwindling human population of the city.
Miklos rode a tram on one of the many districts of the city, commuting to the local municipal the local army training ground. Several humans could be seen sitting down on the chair, while the aisle is full of the clockwork men standing.
            "Yo, Miklos!" The voice of a boy called out to him, before Miklos could turn to look, the boy had already given Miklos a pat on the back and proceeded to take a seat beside him.
            "Hey Nikolas."
The boy with the bright blue hair sitting there is Nikolas Vangelis, a childhood friend of Miklos. But Nikolas moved out years ago to another district. They happen to go to the same high school though, so there's that.
            "How's your time at the workshop?" Miklos asked.
            " It's pretty fascinating, Miklos, you won't believe what they're building beneath the city, the ground leviathan is sooo massive! I was in absolute awe when they show us that!"
Nikolas recounted with enthusiasm. The clocksmith's apprentice had always adored gears ever since he was a child. "With this, there's no way our city will ever fall!"
            "Ahaha, good to hear that from you."
The great city of Orkelliopolis is surrounded by enemies of mankind from all side. Necessitating the conscription of a large portion of its citizen to the defence of the city. As such, it is mandatory for all of Orkellion high school students upon their last year of study to serve on that duty in some capacity according to their respective merits.
          "You're with the scouts, weren't you? You're going to the outside world today?"
            "Yes, I've always wanted to see the outside world…"
            "That you are… Though I've heard the undead attacks have been intensifying recently. Are you sure about that?"
            "Yes, I've made up my mind."
            "Geez, you've always been like that Miklos… In truth, you don't really care about the outside world, didn't you?"
            "What are you talking about?"
            "Aren't your mom worried?"
Hearing that irked Miklos quite a bit.
            "It' doesn't matter."
            "Why?"
            "She's not my mom"
            "She's not my mom"
Nikolas said that at the same time with Miklos in a mocking tone. Which made Miklos quite taken aback.
            "If you kept this attitude, you're going to regret it later, Miklos." He said. Patting Miklos's back
            "Tch, who are you to me, why are you patronizing me?" He retorted, deflecting his friend's arm. Nikolas's hand ended up hitting one of the clockwork men, who looked at them for a moment after being struck.  They were programmed to have no feelings, why the clockwork men looked at them is probably just to obtain visual confirmation of what had hit it to evaluate the danger level in order to provide an appropriate response. Even so, the comical scene feels quite awkward for both Miklos and Nikolas, as the towering brass humanoid machine is looking down at them, like an adult flashing a scorning look at two arguing children.
The verdict was. Negligible threat. The clockwork men turned away.
And then the tram arrived at its destination. When the door opened, the clockwork men walked out in perfect order without wasting a second. The human passengers waited for a while before heading out themselves. Miklos and Nikolas included.
            "Well, until we meet again, I guess." Nikolas said, as he heads out on the opposite direction of Miklos. "Sooner, rather than later."
Miklos took the necklace her mom gave him. It's made out of silver and oblong shaped. Apparently, it's a locket, as he notices a small slit where the locket could be opened.
When he did so, the locket opened and revealed a photograph that showed his mother in a black dress, looking young as ever. Sitting on her lap is a toddler boy, black hair, blue eyes. It's obvious who the boy was.
Miklos immediately clenched his fist and closed the locket. Gritting. He considered throwing the necklace away but relented, and put it back in his arm pocket.
He then continued onwards toward the gathering point of the new scouting cadets.
****
The land surrounding Orkelliopolis is blighted and cursed. Supernatural forces rule everywhere and the city has been besieged by hordes of unnatural foes for many generations. The once prosperous land is now teeming with undead, beasts, and ghastly abominations. In lieu of their predicament and of how they dealt with it, the Orkellian Defence Force, or the ODF, has a saying.
"The flesh is weak."
Stemming from their mastery of mechanical construct in order to deal with their supernatural foes. Miklos witnessed first-hand the very reason this saying came into being.
Touring with his entire class of cadets, he saw rows upon rows of towering brass-men lining up in a perfectly organized column. These were different from the one he often sees on the streets. They looked vastly superior, with visible armour plating and integrated weapon system on their left hand. Their right hand mimicked that of a human hand, enabling them to grab object and, to a certain degree, uses them to their advantage. The military clockwork men, no doubt the brainchild of the Orkellian school of orology, are truly a sight to behold.
            "Magnificent, aren't they?" A deep male voice came from behind him. Miklos turn back to find a male whose appearance did not betray his voice. He was one of his squad mates "The clockwork men, the ultimate expression of mankind's defiance against the natural order, they need no sleep, they need no rest, they do not age, they do not decay, ah… what a truly, truly, magnificent creation." He continues, clasping his hand as he conveyed his words.
Miklos, unsure of what to say, could only muster an 'um' for the reply.
            "Hello! Good morning Miko!" A comparatively high pitched voice said. A short girl with a tied double ponytail walked up.
            "Morning, Kora. Morning, Max."
The two people behind him were his squad mates, Korellia Caudley and Maximillian Fotios. Miklos had been well acquainted with both of them since for six months since basic training.
            "When I looked at all the clockwork men, I knew Max would get uhh… a little bit energetic" Miklos said. Pointing his thumb at the field littered with the clockwork men.
            "Ah, don't let it get to you, Maxi-moo has always had a weird gear fetish." Kora nodded in agreement. And to have their point immediately proven, Max kept looking at the rows of clockwork men, producing several peculiar noises with equally peculiar face. Kora couldn't hold herself at the sight of this and started laughing.
Miklos glanced at Kora, now laughing gleefully. He observed her for a short while, her short stature and her bright hair, topped with her cheerful and childlike manner. It reminded him of someone he had known for the longest of time, someone that had taken care of him for all this time, slowly her visage started to form in place of Kora. And Miklos might've stared at her too intensely for Kora to finally took notice.
            "What?" She said, the single word that brought Miklos back from his thought.
            "Oh, uh, nothing, you reminded me of someone."
            "Ohoo?"
            "Ah, this is of most common occurrence, when one meets with whom they reminded oneself off of someone, it is because their appearances are so equally unremarkable as to made it difficult to distinguish one from the other." Max, who were fawning over the clockwork men before, surprisingly commented.
          "Hey! What is that supposed to mean? Are you saying that I have a boring face?"
Miklos couldn't agree with that statement and its insinuation either, it sounds like he was just trying to make himself look smart, but he chooses not to comment.
            "So as I was saying-"Before Max could explain himself, the sound of a whistle could be heard from afar, it was really high pitched and piercingly deafening as it echoes throughout the base. Successfully catching the attention of every single cadet. There stood an imposing figure of a man, wearing a black officer coat and a maroon beret. All of the cadet's attention are on him right now. And then he began to speak.
            "Good morning cadets, I am Alexander Sakratidis, your senior major." The major made two announcements which, to his words, were apparently good news. One was that today, each of the scouting squad would be assigned their own batch of clockwork men (which consists of one unit) suited for scouting mission. The second, being the implication of the first, was that right after meeting their respective clocksmith apprentice, the one responsible of handling the clockwork men on their squad, they would immediately be dispatched on their first mission.
This was news for Miklos. As far as he knows, the school of orology and the scouting regiment were two entirely different branches of Orkellian service. Though that would explain the lack of training and lectures on the mechanism of the clockwork men, probably new curriculum, he thought. And indeed, the new clockwork men model they introduced looked vastly superior to the one he knew from the previous generations, which would explain why they would require a dedicated clocksmith apprentice to operate and maintain. However, he still questions the prospect of putting the precious clocksmith apprentice onto the forefront of the fight against the undead.
            "Ah! Miklos! I should've known." A familiar voice called out his name. here comes the clocksmith apprentice, he thought, and what a coincidence it is that he happened to be none other, than Nikolas.
            "Hey, Nikolas." Miklos said, greeting his friend. Who now wore a short auburn robe decorated with bright yellow outlines, with some leather padding here and there to protect his vital organs.
            "So, you are our clocksmith?" Kora said, noting Nikolas' arrival towards the group.
            "That I am, Nikolas Vangelis, apprentice of master Giorgoz Themistoklis. At your service."
          "Giorgoz… Themistoklis? THE Giorgoz Themistoklis? You're his apprentice?" Max noted with excitement.
Master clocksmiths held a special status on Orkellian society, owing to their great reliance on clockwork mechanism. The greatest of whom had long since passed away were revered to be almost godlike, whilst the living were hailed as a hero, becoming a household name. Their fame surpassing the most popular of celebrities, the most prominent of the nobility, and even rivalling her majesty the queen herself.
So, it's not strange for someone like Max to react in such a way when the apprentice of a famed master clocksmith happened to be his squadmate. He immediately grabbed Nikolas on the shoulder, kneeled before him, and spewed out praises upon him, before inquiring to him numerous superficial questions about his revered idol, something like is it true that he invented this? Or is he these years old? Questions that almost rhetoric in nature but not really. As the understandably confused Nikolas attempted to answer Max's question one by one, Miklos and Kora stood by, with pitying expression.
            "You knew him Miko?"
            "Yeah, I've known him since I was little, our house is really close by."
            "Heeeh, hmm…" Kora mumbled under her breath, eyeing Miklos closely.
            "What?"
            "Hmm I don't know, you seemed kind of awkward near him just now." She said whilst stroking her chin.
            "What? We're fine, what are you talking about?"
Kora sighed. "Miklos, I knew you are like a blank slate most of the time, but you need to open up sometimes."
            "What do you mean by that? Why is everyone on the world wants to lecture me now?" Miklos snapped. That seemed to catch the attention of Nikolas and Max who were busy talking about brass utensils just now. Nikolas in particular seemed to overhear them and gave Miklos a sad look.
Miklos silently curses this situation. Of how this is the first time ever in the scouting regiment history to have a clock smith apprentice integration, and for said clocksmith of his squad to be the one person Miklos doesn't want to see for a while. The unprecedented number of coincidences seemed so impossible that it felt like someone up above was pulling the strings for it to happen, solely just to mess with him.
Just as he thought so, the puppeteer of fate seemed to show favour in his side for once, as the ear-splitting whistle of the major rang once more.
            "Attention cadets!"
The hustle and bustle among the new cadets of the barrack were immediately silenced, as all of them formed ranks in short order. Eyes were again directed at the major.
            "I believe you've met your own respective comrades." He continues "And thus, from now, I proclaimed you cadets no longer! From now on, you are a full-fledged member of the scout regiment! I proclaim you all, as the 72nd scout regiment!" The major then snapped a crisp salute, crossing his arms just above his face with a parade ground efficiency, the model of an ODF salute. "Repeat after me! We shall fight forevermore, and forever shall we be remembered. We shall fight for our homes, for our families, for our faith, and for our birth right! For humanity! IN CONCORDIA, AD VICTORIAM" He shouted at the top of the lung. All of the new recruits followed suit, snapping a fine salute as the sound of more than a thousand boots thundered throughout the whole base, and then they shouted the ODF jargon in unison. In Concordia, Ad victoriam.
Just as the recruits shouted the ODF litany of oath, The familiar sound of propellers slicing and splitting the air was unmistakable, as was the imposing sight of one of the giant lumbering airships slowly descending from the sky. It swung at a perpendicular angle, another squadron of said blimps followed. Landing squarely in the middle of the base.
Now that little drama before with his squad mates had been completely swept away from his mind as the zealous fervour ran rampant among everyone on the base. Miklos looked at his squad mates, every single one of them smiling, standing tall and donning their uniform with pride. And today, as they stepped into the great airship, marked the first day they would step together, as brothers in arms. Prepared to make the ultimate sacrifice in order to defend the homeland, defend humanity.
But of course, as often was the case, the goal of these fiery speeches had always been to invoke jingoism in the masses, to inspire and motivate them. So, when the truth was so horrifyingly crippling and dismal, it had always been omitted during all the fiery speeches. And the newly formed regiment would soon find that out.
****
The cold pragmatism that had ruled Orkelliopolis for decades were one that was born out of necessity, one which had helped them survived after all these years. But like cogs in their clockwork machinery, they also treat people as cogs in the state apparatus.
The land surrounding the city was accursed, true, but it brought out a material of a kind never before seen from the Earth. A mineral which has blue lustre, but when looked at a different angle, it could reflect different colours. A gemstone which seemed imbued with whatever accursed power the land contains, a mineral which the Orkellian minerologist called galázium.
This precious blue mineral is the sole reason how Orkelliopolis had survived all this year. As the mineral now powers many of Orkelliopolis's machinery, operating at an unprecedented amount of efficiency many folds better compared to the then novel steam engine. Besides efficiency, the stone also seemed to have universe bending power that are still not understood to this day, it is the core of every clockwork men, the one that power them sufficiently to be able to operate semi autonomously.
But being a mineral that was born out of the cursed energy of the land, it goes without saying that galázium had to be mined far from the safety of Orkelliopolis's mighty walls, as that's where most of the deposits lies. In order to survey, prospect, and help exploit for any potential source of galázium, the first of the scouting regiment was then conceived.
Whilst the main standing army of Orkelliopolis were deployed to expand and permanently occupy a certain area of strategic importance. The mining guild requisitioned the scout regiment to conduct what they call flash-mining. From what the name implies, a squad would prospect for galázium, mine the deposit, and retreat back into safety before being overwhelmed by the hordes of undead that would get attracted by all the noise. Fortunately, enough, galázium could readily be found emerging on the surface, so they could be mined without much difficulty.
It is one such mission that Miklos is currently undertaking along with his squad. In addition to Nikolas from the school of orology, the squad gained two additional members, one of which were scout clockwork men, and the other is a miner from the mining guild. Each squad would be paradropped from the airship via a capsule pod distributed along the fuselage of the airship.
            "Good to see you gentlemen." An adult man with an exquisite accent said as he greets the rest of the squad. He sat beside the clockwork men and Nikolas, just across Miklos and his scouts. The miner's heavy brass armour plating that covered almost the entirety of their body made them almost indistinguishable from the clockwork men had it not for his face.
            "I am Theodore Heinrich of the mining guild, pleased to make your acquaintance." He said, grabbing the hands of the scout recruit with a strong grip, not deliberately, but out of habit. Each of the squad members then introduced themselves in turn.
            "Woah, I've never met anyone of the mining guild before, I've heard the rumours, but seeing you up close is so astonishing!" Kora commented "If I didn't know better, I would've thought you to be a member of the army with all that heavy armour!"
The miners of Orkelliopolis are not like your typical run of the mill miners, they're equally trained in the art of mining as they are in the martial art, sporting heavy equipment and armaments, the miners could be counted as an effective fighting force all on its own.
            "Well, you need to be in the army first in order to be a miner after all." Miklos said.
            "Ah, it's all part of the job." Heinrich said with a wave of his hand, dismissing it as something of the norm.
            "Mister miner!" Max shouted with excitement, his eyes gleaming like a child presented with a new toy. The other member of the squad started to either roll their eyes or sighed, whilst the miner was understandably quite bemused. Max then proceeds to ask a barrage of superficial question to the Heinrich, something along the line of "Is it true that galázium is blue?" or "what did you use to mine?" again with the almost rhetorical questions.
Max's interviews with Heinrich were interrupted with a sudden booming sound of the airship's main gun, with that sound came vibration that shook the drop pod. And then an announcement.
            "Attention to the 7th squad, we have reached your designated zone, prepare for deployment at once, ad victoriam!"
Then the booming sound came again, now accompanied with a ceaseless rattling sound of the countless machinegun fire. Such is the standard operating procedure of the flash-mine operation.  Before deploying the squad, the airship would produce as much noises as possible in the form of a barrage of all of its weapons to divert attention away from the squad. Tracer rounds and delayed fuse bomb equipped with bleeping alarm sound were deployed, all to get the horde's attention, with the bonus of inflicting casualties to the undead being a welcomed addition.
The lights on the drop pods bleeps, painting the cramped pod in a shade of red.  And then the countdown to zero started.
"Well then, it's time gentlemen." Heinrich said, as he wore his full plate helmet. The scouts armed their rifle, and Nikolas activated the gyroid attenuator to activate the clockwork men. Miklos reached for his arm pocket unbeknownst to his consciousness, gripping the locket that her mother gave to him tightly. As the countdown reaches zero, the loud clanking of metal could be heard, letting gravity took hold of the pod and unceremoniously plunging the entire squad down with it.
****
The squad moved along the blackened landscape that is the Arrovial continent. The skies were overcast as far as the eye can see and the air is pungent with the taint of the dead. They do not immediately deploy after the pod made landfall. Instead waiting for some time for the undead host to follow the airship.
Whilst Miklos and his squad is part of the scouting regiment. Since they're still green recruits, they are assigned to a relatively forgiving mission. Only deploying to escort the miner to a previously known deposit of galázium. The job of surveying out new deposits into the dark reaches were left to the more veteran member of the scouting regiment. And even though permanent galázium mining settlement do exist, and they are heavily guarded by the army, more than 70% of the city's galázium reserve came from the flash-mining operation due to how rare permanent deposits of the mineral are. Galázium are a peculiar mineral, it is as if they emerged out on the whims of the Earth and can surface or burrow back anywhere at any time. Previously known deposits filled with galázium could become barren overnight and vice-versa. That's why this operation is still being undertaken due to how unpredictable the material is.
And now Miklos had gotten what he wanted. He wants to see the outside world, only to be greeted with nothing but ash.
"Squad, halt" Kora ordered through the communicator. Being the elected squad leader, she held the responsibility of her squad's wellbeing, and the success of her squad's assigned mission. "Look, purple ground, we're close. Nikolas, did your clockwork men sees anything?"
Nikolas meddled with his gyroid attenuator to get some readings, to no avail, unfortunately.
            "No… here it says nothing…"
            "Huh, that's weird."
Kora and the scouts scanned the surroundings again, purple grounds were one of the signs of galázium deposits, or so they were taught. In lieu of this development, she ordered the squad to advance again, keeping a close knit formation with the scouts and the clockwork men covering Nikolas and Heinrich. Occasionally they would hear a distant, damning roar, echoing from the valleys, occasionally they would also spot figures moving in the shadows, overlapped with the thundering roar of artillery guns coming from the airship. All of those were taught as normal occurrences when wandering outside the city. Nevertheless, it still unnerves the green recruits.
            Fortunately, whatever phenomenon that had cursed this land had also produced a lot of protruding rocks and stones that filled the landscapes. The officers called those stalagmites, and the scouts were trained to utilize them as much as possible to be used as cover to conceal their advance.
            "Kora, look!" Miklos said pointing towards a peculiar formation of stalagmites leading up to a cave "Are those… galázium?"
Kora turned her attention to the direction Miklos is pointing, and before she could comment on it, Nikolas's attenuator gave him a reading.
            "W-whoa, yes, positive, it's galázium!" He said, making sense of the endlessly spinning gears on his wrist.
            "Those are… galázium?" Kora said. She uses her monocular to confirm a visual reading. The result was… inconclusive. "If they are indeed galázium, why are they red?"
            "What? Red? Let me see!" Heinrich said with astonishment in his voice. Kora handed him over the monocular and, to his surprise, it is indeed the minerals that he was so used to, only this time it is red.
            "What do you make of it, mister Heinrich?" She asks, But Heinrich was silent, Kora take it as him observing the source.
Meanwhile, Miklos stood there, his gaze vacant, but was perturbed by something. Suddenly he could hear sibilant whispers on his head, a combination of clicks, whistle, and hissing followed suit. Unintelligible on its own, but something inside of it tells him to go towards the direction of the cave.
Slowly but steadily, fog started to build up between them and the cave. And now it's almost impossible to see it with the naked eyes. Just as Kora about to order Nikolas to conduct a thorough scan, Heinrich began chuckling, and then he laughs.
            "Ahahaha, it, it really is, it really is red galázium! I've found it, I've found it!" Heinrich shouted uncharacteristically of him. And before Kora could ask him what he meant; he already darted towards the cave deposit.
            "Wait!" before Kora could stop him, Miklos followed suit towards Heinrich. "Hah, Miko?! Hey, wait!" and so the figure of both of them disappeared on the thick fog that was there all of a sudden. "What the hell?"
            "Miklos!" Nikolas shouted, an effort that earned him a little pinch from Kora. "Shh! Keep your voice down!"
            "Uhh, Kora, where did these fogs came from?" Max asked, whilst releasing safety on his pulse rifle.
            "I have no clue, stay close and stay on alert! Nikolas, combat mode!"
            "Y-yes, but what are we going to do about them?"  He asked, snapping his head here and there to locate the last known bearing of the cave now that they're completely blanketed by the thick fog.
            "We'll advance and go after them, but before that-"  suddenly, her voice were cut short by a gut wrenching scream in a seemingly, and, worryingly, close proximity. All of the squad members snapped their guns up, ready to shoot whatever it is that made the noise. They listened for a moment; nothing came up. Kora signalled Nikolas to conduct a vicinity scan with the clockwork men which he wastes no time in doing. The attenuating gears on his wrist then spun out of control, pointing into a seemingly random direction all over the place, but Nikolas knew all too well that the attenuator is not pointing at a mere random direction. And then the fog started to darken. With shadows, that are moving.
They are here.
****
Miklos walked slowly under the thick fog, the incessant whispering on his ears now seemingly have him under control, as if bewitched by it, going towards the cave. By this time, several shots have rung from behind him, and yet still he kept walking unabated, seemingly lost in thought, his eyes were vacant of all life. And at that moment, there's another voice among the whispers and the hiss on his head, calling out his name. life began to slowly return to his eyes, and he snapped back to reality when the voice screamed his name.
            "Wait, where am I-"
Before he finishes that line of thought, a sudden roar from behind him caught him off guard. Shortly after, the sound of wheezing air moving at high speed could be heard, and then felt. Miklos knows better to duck at this time, even without fully knowing what caused the sound. So he did. And as he ducked, a heavy, sharp object sliced above him, just slightly missing his head. That's when he hears the voices. The heaves of fear staggered Miklos on his feet. It reminds him of a gut-churning image he's harboured for a long time now.
This is no ordinary fear, no rationalisation.
It was an artificial fear that came from outside source and said source could be seen in front of him in the form of a cloaked winged giant, silhouetted by the moon. Next, he heard an awful scream, and then a kind of panic starts to grip him as his hand stumbles around, looking for his rifle. But thanks to the panic strike, his nerves seemingly degrade to a level of an elderly with a motoric nervous disease, his hand slipped again and again during his attempt in trying to grab the rifle. The undead giant started lifting its heavy broadsword again. And Miklos, noticing that, decided to run away in the opposite direction. He doesn't know where he's going all thanks to the fog, he just wants to be as far away possible from the demonic undead.
But that blinded him from the attacks of other undead. Several of the undead emerges from the mist, and they're charging at him.
His hands are still petrified, unable to grab the rifle that was slinged onto him, he kept running and running away, until he could see the cave where Heinrich had presumably gone into. He started gunning for the entrance, unfortunately the cave was large enough for the giant to chase him into, and so it did. He was not out of the mud yet.
As he went deeper into the cave, he noticed that the surrounding stalagmite had started to change its luster into a more blood red with no different angular colour. So red galázium do exists after all, but he hadn't the time to think about it, the giant was still chasing after him.
Then a thought dawned upon him, where is Heinrich?
He got his answer right away. There in front of him, where the cave branched into two giant paths, the right side of the path has nothing special about it. Just some stalagmites scattered across the floor. The left side, meanwhile, was littered with extracted red galázium stone. At the edge of the precipice between what little light is available from the outside and the complete darkness of the cave, Miklos could see a body lie motionless. A human body, covered in full plated brass armour, with several missing limbs.
Before he's able to process this new information, the ground beneath him suddenly shook, and now he's unable to give a proper reaction in time, as he saw two sharp glowing scissor like mandibles emerges out of the ground beneath him, slicing his right arm off. There's a limit on how much a human brain can process their surroundings at once, and Miklos' has gone past that threshold many times over. He staggered and felt dizzy instantly.
He was so busy being terrified that; he couldn't comprehend the feeling having his right arm missing. And after he regained his bearings, he just immediately ran towards the opposite direction yet again, now without bothering to look at what had sliced his arm off.
Whatever it is that had claimed his right arm, it is now chasing him as he heard eldritch scream, accompanied with endless thudding against the cold cave stone, a sign that it probably has many, many legs. And again, there's still that winged giant from before.
At this moment, Miklos felt a lot of things coursing through his body and soul. He was still pumped with adrenaline, so the pain of losing an entire arm hasn't settled in yet. And among all the thoughts he had in his mine, one thing slowly became clear in his mind, as the writing on the wall became increasingly obvious.
He is going to die.
****
            "Are you sure about this, miss Solstice?"
            "Yes, Monsieur Caudley."
Two figures stood on the edge of an ostentatious looking hallway filled with glittering tapestries and crystalline decoration of luxurious nature. Smooth and elegant music coming from the cadre of performer serenades the esteemed guests of the cabaret, walking haughtily while their chauffeurs trailed behind, bowing. Despite being a city whose very survival was questionable within each passing seconds, the fact that a place of such vulgar opulence could be erected so mightily within said city could say so much about the human race itself. be it folly, or prudence.
            "The influx of customer came at its peak during the night where your service would be most useful" Said one of the figures, a man of tall stature but plump appearance, wearing a striking white tuxedo with matching trouser. "Resigning yourself from the night shift would cut your pay to more than half of what they are right now." Patralax continues, looking down to the other figure who is significantly shorter than him. A seemingly young girl with a pair of striking red eyes and bright brown hair.
            "That is fine, monsieur. I've made up my mind." The girl said softly, but with a firm tone. The man gauges her eyes, dedication written all over it. He then resigned to her desire.
            "Well, okay then, I'll prepare the necessary paper, but it would only go in effect next week, you'll still have to do the night shift tomorrow, understand?"
            "Yes, monsieur, thank you very much." The girl said, bowing down.
            "Humour my curiosity though, why do you want to resign from the night shift?" Patralax asked. "Was the customer too harsh for you? You know you can report any misconduct to me… Or is the pay not enough? I don't think it's the latter though, since you consciously requested to have it reduced in half."
            "No, not at all, it is a pleasure working here. It's just that, I want to be able to spend more time with my son." She replied. The reply that seemed to surprise him.
            "You have a son?"
            "Yes, monsieur."
            "How old is he?"
            "He's turning 15 this year, He's already in the scouts." She said with a hint of motherly pride, though the answer just further baffles Patralax.
            "Your son is 14? How old are you again?" There was a moment of silence after he asked this. The question's rhetoric, he knew most of the age of his employee, especially his brightest, and she fits into that category. He recalls that when she applied for the job, her bio claimed that she's 24. Which means she's 27 now, which, in turn, means she's merely 13 when she became a mother. The implication of that is; either something really, really bad happened to her during her early teens, or that she adopted her son at that age. Patralax doesn't like thinking about which one is more probable. Either way, it doesn't seem appropriate to inquire further about the topic, so he decided to apologize. But then she broke the silence before Patralax did.
            "Five thousand five hundred… twenty nine." She said out of the blue, smiling. An understandably bemused Patralax looked at her.
            "What?" His reply was almost reflexes. And an infinitely long second of silent took place before she jumped out.
            "Juust kidding, but don't worry, I can assure you that I'm older than I look."
            "Well, you certainly are…" She's not wrong, she looks far too young to be 27. As to the number she jests before, Patralax just dismisses that.
" Though having more money would be nice though don't you think? You'd be able to give more comfort to your son." He said, in a last attempt to tempt her to keep working the night shift.
            "That might be true, monsieur. But recently, I just realized… no, I just remembered about something."
            "Oh? And what that might be?"
            "You claim that, with more money, I'd be able to give more comfort to my son." She said, reiterating his point. And then she started walking in circle. "But you see, when we buy something, we did not really spend our money to buy said item. We pay with the time we spend earning that money, the hours of our life" She stopped just after her back was against him, and then she turned back. "Hours, that we could've spend doing something else… as for my case, it'd be spending more hours with my son. And those hours of your life… Cannot be bought with money, or anything else." She chuckles inside her mind. Thinking that she didn't have the right to say anything about time, but here it is.
The astonished man stared at his petite employee. He has never thought of it before, indeed, he has spent the majority of his life chasing for material wealth. What this girl… no, this young woman just said gets him thinking about his own family back home, his wife, and his daughter. He smiled warmly.
            "Miss Neja Solstice, you are much wiser than your look makes it out to be."
She beams and flashes a smile at him.
            "All right, guess we'll just have to find another pastry chef for the night, bit of a shame, the customer really liked your specialty cake, but oh well, we'll manage."
            "Thank you very much, Monsieur Caudley."
            "No, on the contrary, the pleasure's mine, miss Solstice."
            "Just doing my job." She replies, but Patralax grabbed her shoulder warmly
            "No, I'm not talking about your service." He said as he shook his head. "I was referring about what you said before. You see, I, uh, I…" He retreats his arms back to scratch the back of his head, it was the first time he was ever nervous Infront of an employee. The woman, Neja, eyed him curiously.
            "Yes, you're…?"
            "You see… I actually have a daughter back home… she's, uh, the same age as your son, and from what I've heard, she also served in the scouts." He said.
            "From what you've heard?" She asked, curiously.
            "Yeah, I'm not that close with her, I uh… I might've been too harsh on her." He said, his voice low, so low that the jazz music that is now playing on the background almost cuts through his word. "She seemed to always want to go against me in every possible way, whatever I say, she did the opposite, whatever I do, she does the opposite, at first, I don't know why she does that… but seeing you made me realize, it's not that she doesn't want to be understood, no. I am the guilty one, guilty for never trying to understand her." Patralax said, wiping his moist eye.
Neja looked at him, so apparently her boss had been presented with similar problem to her after all. She can fully empathize with him.
            "Our children, they are a curious bunch, are they not?" She spoke. "We've known them for the longest of time, and, in our ignorance, we think we fully understand them, we think we can mould them however we like." She said, holding one of Patralax's hand in an attempt to console him. "But then they grew up, and started acting the way which is contradictory to our wish and expectation, and then, as it seemed like our understanding of them was beginning to be questionable, they started to grow distant… until we can understand them no more." Patralax nodded in agreement. Relating to her entire words. "What a sloppy parent we are." She said with a sigh, and then a wry laugh. "But we only have one shot at this, monsieur. The time that has been lost cannot be bought back. We can only reflect on the past, and better decide on what to do with the remaining time we have. Hence why my decision earlier to resign from the night shift."
Patralax nodded yet again in agreement. "You are right. Well, you've won me over miss Solstice, I will not try to meddle in your decision again. And maybe… maybe I'll fix what's wrong."
Neja gave him a sweet smile, before donning her chef's hat again, and started walking back to the kitchen.
            "By the way, miss Solstice." Patralax asked again, halting Neja.
            "Yes, monsieur?"
            "Your son, what is his name?"
Neja smiled again, regardless of what happened, her son is still her pride and joy. And it never tires her to proudly introduce him to anyone that asks. "Miklos, his name is Miklos."
            "I see, Miklos Solstice, what a fine name."
            "Thankyou. Monsieur."
            "My daughter, I mentioned that she's in the scouts too, and at the same age of Miklos, figured he might know her. Her name is Korellia."
            "Korellia Caudley, her name is pretty too."
            "Yes, my wife gave her name… anyway, greet Miklos for me when he comes back will you?" Patralax made one last cordial pat to her shoulder, before turning and walking back to his office.
            "And greets Korellia too for me, monsieur." She said. To which Patralax waved an arm as an affirmation.
And thus, Neja sets out to do her final night shift. In preparation to his son's return the next day. if it's going to be her last night here, might as well make it the best. An excited Neja then entered the kitchen. Motivated and elated at the thought of what is to come.
****
The undead surges onward. A ceaseless horde of unending deluge, a typhoon of blight unfettered by the living who struggled to fight them back. Four young souls and a men of metal stood defiantly amidst the throng, pinned down around a formation of stalagmites that stood between them and certain death
            "Kora! There's too many of them!" Max yelled, busy as he was, keeping the clawing undead away with incessant trained fire of his pulse rifle.
The undead that were surrounding them were that of the husk-class. A minor, weak, and slow moving undead. Their pulse rifle is powerful enough to pierce up to three or four of them in one shot if lined up properly. But even though they were merely the husk-class undead, they still greatly outnumber them, and there's no telling of when the more advanced class of the undead would show up. Kora frantically looked around her for a way out. her observation revealed that the undead concentration is lowest behind them.
            "Fighting retreat! Nikolas, relocate the CM[1] behind us, we'll break through and regroup!"
            "What? What are you planning?"
            "What do you mean? We need to get out of here!"
            "But what about Miklos? And Heinrich"
Kora didn't answer for some second, half occupied with the undead but also half unwilling to answer for what her order insinuated.
            "We- We'll… We'll rescue them later when we are safe!" Kora answered.
            "Bullshit! We need to rescue them now!" Nikolas shouted.
            "No! Nikolas, we-"
Kora knew very well what her orders meant to their two other squad members, and the conscience weight heavily on her mind as the squad leader. At a moment of great peril such as this, every second means the life and death of everyone involved. Requiring a person of great mental fortitude to make a choice, any choice. For the wrong choice is better than nothing. And that is something Kora, as a new member of the scouts, unfortunately is quite lacking in. Decisiveness.
In the face of one of her squad members defying her orders, for something that she herself is truthfully unwilling to do, she faltered in indecision.
            "I- I… but, but they're… we're…"
Her mind is now racing, unwilling to sacrifice her squad members but also pressured to act quickly.
            "I'm ordering my CM forward." Nikolas said, as he tuned his gyroid attenuator. Kora could only watch, wanting to belay him but no words seemed to come out of her opened mouth, and then Max bellowed a shout strong enough to cut through all the roars and the fires.
            "NIKOLAS. WE'VE GOT TWO MEN ISOLATED ON THE OTHER SIDE. BETWEEN US IS A WAVE OF UNDEAD. FIGURE IT OUT!"
That shouting stunned both Kora and Nikolas. The latter especially, who stopped meddling with the attenuator immediately, eyes wide as the truth of the situation started to sink in.
            "Nikolas…" Kora said, her voice rather soft, but still loud enough to be audible amongst the chaos. "I know it's difficult… but we need to get out of here…"
            "But… but what if we wait for reinforcement?"
            "I've called for it, but it will take some time, about three hour, we can't hold for that long."
Nikolas stood frozen, gritting his teeth. His clockwork men is still fighting on custodian mode, that is to prevent any undead from reaching its human master. Its armour proven itself as the clawing dead tear and clawed at it without much success. He cursed for not having more than one of them, two should be enough to clear a path forward. Then Max spoke again, not as loud as before.
            "Nikolas, it's either us, or none at all."
He was about to suggest hunkering down again when he notices the energy level of Max's pulse rifle, the galázium indicator shows his pulse rifle has got less than half of its remaining power left. Nikolas clenched his fist; the plain fact is that they won't be able to hold for long before they ran out of ammunition. Faced with no other choice, he obliged, swinging his arm towards the back line of the squad and attenuate his gear. The clockwork men response was almost immediate, it ran charging towards the rear, clearing a path for them.
Kora nodded, she flashes a hand sign towards Max, and both of them threw a couple of resonator grenades. Designed to distract the undead by making a noise specifically attuned to their hearing, it would then explode after several minutes.
            "Now's our chance, retreat!"
Kora and Max immediately jumped out of their cover and ran for it, with the clockwork men spearheading their formation. It took Nikolas a couple of second before he was forced to run as some of the undead that did not get attracted to the grenades neared him.
            "I'm sorry… Miklos."
****
Miklos ran, and ran, and ran, and ran. It has only been less than five minutes, but it felt like he's been running for eternity.
With each passing moments, his breathing grew heavier. With each passing moments, taking a step became a labour. And with each passing moments, the stinging and burning pain from his cauterized maimed arm. The two malicious undead were still chasing after him. It is a miracle that he had somehow outrun them so far.
As he was already in this predicament for quite a while, his mind had had some time to grasp the situation around him, not that it was of any help. All around him the situation was just completely hopeless. An arm missing, isolated from the rest of his squad, and running deep into an uncharted cave, there's nothing about the situation that speaks of hope.
He curses to himself, to the giant undead, to whatever it is that cuts his arm off, to his squad mate for leaving him there, to the universe, to the being he dubbed the puppeteers of fate for seemingly setting things up this way, like some sort of a sick and twisted parody written by a deranged obnoxious maniac.
His left hand instinctively swung towards the last known position of his right arm pocket, attempting to grab his locket before painfully realizing that it is gone when all that he felt was air. And now, Miklos was in tears.
The apprehension he had towards his mother was being utterly deconstructed as the situation continues. He felt tired, he felt filthy, he felt pain, contrast that to how warm and clean his room was, how comfortable a house he lived in. He recalled feeling disgruntled when his mom took away his blanket to wake him up, how foolish he was back then. If his current self could somehow travel back in time to that moment, he would harshly yell at his past self for being such an ungrateful sod.
It was just only short of a couple of days from those moments, but he would do anything, anything at all to have those moments be given back to him.
But then his daydreaming was abruptly cut short when he tripped and fell, oh he just had to trip and fell now.
By now he had stumbled upon a vast open expanse on the cave. Weeping lights seeps from the multitude of crevices scattered across the ceiling, this portion of the cave itself was softly illuminated in red hues as the red galázium deposits seems to be at its highest concentration here. What scientific advancement could be gained from this place alone is the last thing on Miklos' mind now as he crawled to the closest stalagmite and rest himself there. His back facing the two undead that was chasing after him, ready to accept his fate.
He never ran so fast before in his life, despite missing an arm, he seemed to have gone paces ahead from his two assailants, and he probably would've died had it not for the creature's hot mandibles that cauterizes his wound as it cuts his arm. But of course, there's a limit on the how much the frail biological mechanism that is his body could endure. The saying 'the flesh is weak' comes to mind. It was supposed to instil a sense of superiority amongst their numbers over their undead foes made out of foul flesh and bones, though in an ironic twist, it consequently meant that the saying also applied to the human soldiers of their own. He held on to his pulse rifle that he somehow still has slinged on to his back, spending the remaining life he had in him to raise that rifle.
Then, in whatever kind of sickening twist of fate, as he was raising his head, he saw something impossible in front of his eyes. He had read somewhere before that dying people usually had some weird visions on their last minute on this world, whether what he's seeing right now is that statement made manifest or not, he doesn't care. It was a sight that is so out of this world that he can't take his eyes off of it.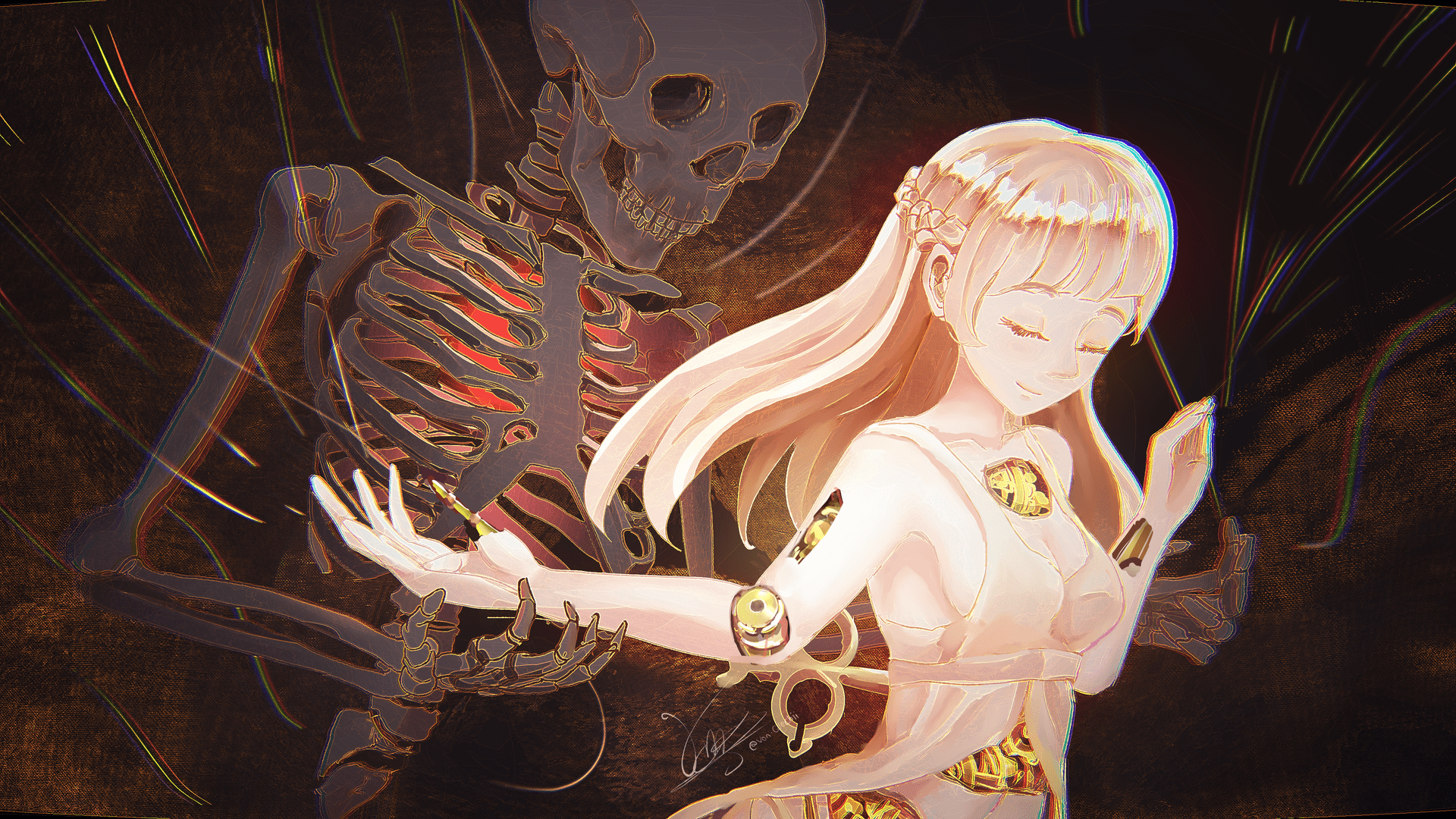 There on the other side of the empty spaces of the cave, he could see what appears to be a girl, waltzing gracefully upon the cold hard stone that is the cave. Her beauty was like nothing he had ever seen. She wore a dress made out of the finest silks reminiscent of those cabaret dancers on Orkellian red light districts, with almost the same colour as her skin, add to the fact that the dress seemed to expose quite a lot of her skin, showing off her flawlessly smooth and soft skin and making her look quite like a living doll. Her movements were fluid and elegant, never once looking awkward or unnatural, or in any way restricted in movement. Her long pale brown hair flowed like water with no care for what the wind was doing. The only adornment on her face were two beautiful yellow eyes, both of which glowed with the inner fire of a thousand suns. Something about this girl commanded all of the senses, to touch it was to wonder. He couldn't help but marvel at how feminine and sensual she looked, making the still adolescent Miklos all the more enchanted.
Having a vision of your dream girl just moments before your gruesome death doesn't seemed all that farfetched. It is your last moments in the world after all, maybe it's a way for your brain to cope with the coming end.
What was not ordinary, however, is that, when Miklos observed her more closely and his eyes drawn to her lower area thanks to his youthful curiosity, what he found something else other than skin that she had. It seemed her skin was impartial in covering her entire body, as what's beneath it was brass and gold, clanking and riveting gears, spinning, rotating, and clanking again in such a harmonious way that would make even the greatest of Orkellian clocksmiths to be ashamed of themselves. And then he notices that the lower abdomen was not the only area of her that exposed her mechanical nature. The very bottom of her dress was made up of small gears, identical to those that were wrapped around her arms and legs. Her left arm impartial skin coverage revealed a functioning linear actuator usually found on the army's mechanized walkers, pumping up and down in conjunction with the gears found throughout her entire body to articulate her graceful movement. Everything fitted together in an exquisite mathematical and mechanical order.
It is a given that every Orkellian citizen would have a degree of interest towards clockwork mechanism. And Miklos was at an utter lost of words at this sight, and he doesn't even have that high level of attachment toward clockwork mechanism. And his attraction towards the vulgar appearance of the girl was being overshadowed by his fascination of her clockwork machinations.
As far as he knew, there had never been a clockwork model that bears such a striking resemblance to a human being, the closest they ever achieved was the clockwork men, who were little more than brass made to look like human. The clockwork girl he was seeing in front of him was anything but humanlike, the way her joints articulated, the way she was given shape, the way she looked. Without a doubt she would have been the biggest achievement of Orkelliopolis ever since the first creation of the galázium engine.
And there's something even more intriguing than that.
Something that challenges everything Miklos ever understood about the entire city of Orkelliopolis, and indeed, the nature of the entire world he had ever known.
When he first laid his eyes upon her, there's actually something else beside the clockwork girl. It was a skeleton, another lesser class of undead. At first, Miklos thought the skeleton was attacking her and she simply just dodges it with her agile movement whilst waltzing away. But then something feels off, the movement of the skeleton is not that of an attack movement, it is purposeful, smooth, elegant even. It looked more like the skeleton was… waltzing… alongside her?
Now, dancing skeletons was something Miklos had seen in children's interactive media that his mom had bought for him many years ago, no doubt for entertainment purpose. And his basic training had made it clear that, skeletons don't dance, they want to kill you. So, how could this be?
Two answers came to his mind, one is that, this particular skeleton is a friendly one and an avid dancer at that, judging from its movement that matched the grace of the clockwork girl. The second one is that, the clockwork girl is somehow controlling the movement of the skeleton.
Both are unlikely answers, equally unlikely, he thought. There's no way a clockwork mechanism has mastery over the dead, a clockwork necromancer… Orkelliopolis have a secular culture, but even the thought of a clockwork necromancer sounded not only preposterous, but also borderline heretical for Nikolas. As for the friendly skeletons, well, he humoured himself on the thought.
Alas, before could think about the matters further. The same bellowing roars from before suddenly echoed throughout the cave.
Oh, here comes the real world, he thought, expecting the mirage that is the waltzing clockwork girl to fade away anytime soon, giving way for harsh reality to settle back in. He had to thank the puppeteers of fate though for giving him such an exquisite image one last time before his untimely death. But to his surprise, she did not fade away. Instead, she just stopped dancing.
Doesn't matter, the ground began to shake violently as the undead giant charges towards him, still lying against the same stalagmite. The familiar dreadful sound of the incessant thudding also made its appearance.
This is it.
****
The squad ran towards their original drop pod site, leaving a trail of resonator grenades to keep the frequent undead off of their tracks.
It is common practice for scouts to retreat to the pod once the situation has gone fubar. The drop pods are designed to be rugged and tough, able to withstand any kind of attack the undead could throw at it, supposedly. There, they would wait until high command could send in an airship to evacuate them.
            "Kora, which way?" Max asked while gasping for air as he ran.
            "It's at bearing 248, we shouldn't be far!"
Their vision was still limited by the ever lingering fog, with only headlights that the clockwork men shone the only thing that prevent them from complete blindness.
Kora stopped running and the entire squad followed suit, her head turning left and right. Attempting to discern the last known position of the pod.
            "We're close, I know it… Nikolas!" she shouted at Nikolas, giving him a handsign
            "O-oh, yes Kora." The groggy Nikolas replied clumsily.
The clockwork men's light intensified, and it tilted it heads around, scanning the area. It was not long before they spotted the familiar bell-shaped silhouette lying just northwest of their location.
            "There! Let's go!"
The group moved towards their drop pod, but as they drew closer and the silhouette revealed the actual form of the pod, it is becoming apparent that something is definitely not right.
And then the clockwork men's headlights became close enough to reveal the truth to their naked eyes.
Their drop pod had been destroyed. Charred ground shown the remains of the electronics, cogs and gears are strewn all around, all burnt.
            "Is that… our drop pod "Max whispered in disbelief.
            "No… no, no! this is not supposed to happen!" Kora cries.
Nikolas stood there in trepidation, shocked as he was, a grim realization made him turn his clockwork man quickly towards their back while activating its sensory ability. The gyroid attenuator jerked violently back almost in an instant. Nikolas eyes widened at what that entails.
            "Kora! Max! Behind us!"
Before the both of them could react to his warning, a loud snitching sound could be heard, accompanied by the guttural yelp of Max screaming in pain. A long black lance that emerges from the mist had pierced him in the chest, and he was slowly being lifted off into the air.
The shocked Kora responded by immediately opening fire just behind Max. several of her pulse rifle shot seemingly hit the target, as its camouflage slowly dissipated, revealing a grotesque monstrosity of which she had never seen before, not even during lecture class. The creature was over four metres tall and was composed of twisted chitinous plates and ribcages. It is an amalgamation of insect and man, it had numerous jagged appendages, and  piercing red eyes. It has several sets of long tail which had a sharp end, one of which had impaled Max
Max was groaning in agony, in a sudden move, the creature whipped the tail it was using to impale Max, launching him towards the air. Kora stood in a cold stupor as she watched Max quickly falling to his death, and now, the creature's attention was onto her.
Kora fired yet two other rounds of her pulse rifle, still attuned at moderate power level due to lack of time. The pulses struck the sharp carapace of the creature harmlessly, even deflecting it at some point as if the jagged armour of the creature was specifically designed in such a way to counter her pulse rifle. Two of its tail then lurches towards her, Kora flinched as her eyes shuts itself on reflex. Fortunately, Nikolas was on time and his clockwork men parried the lance, and even managed to cut one of them off in the process, the creature shrieked loudly like the scream of a damned soul.
The clockwork men then sprinted at the creature and closed the distance very quickly, owing to its superior biomechanical engineering. It then slashed the creature repeatedly with its four retractable blades. However, the creature returned the favour, easily gliding from one position to the next to find an opening in the clockwork men's defences. It strikes again with its tails, all but one of the tails were parried, and that one tail is going straight for the clockwork men's galázium core. Kora sees what the creature is doing, and she fired a nonstop barrage of accurate pulse fire, finding no great results against the creature's armour but successful in halting the creature's tail advance as one of her shots scored a direct hit.
The creature then slides backwards, realizing that it is at a disadvantage against the clockwork men. It then launched two of its other tails towards Nikolas, who stood behind them all with no cover.
Kora and Nikolas was utterly shocked at this. Now they knew that the creature is not entirely acting on pure instinct, it is, in fact, quite intelligent. Nikolas raised his pulse pistol in an attempt to block out the two lurching lances currently going his way, unfortunately he was not as trained as the scouts with guns, all of his shots missed. As the lances was about to impale him, the clockwork men arrived on time, blocking the attack with its body, saving Nikolas but immediately incapacitating the clockwork men as one of the lances had struck its galázium core.
Nikolas watched in horror as the creature launches more of its tails, its obsidian lances piercing the clockwork men's brass composite armour, tearing it apart limb from limb.  he then saw the clockwork men fell motionless to the ground.
The creature snarled in a powerful voice, which were met by a high intensity barrage of Kora's pulse rifle, now firing at maximum power. The creature replied with a low sweep from its obsidian tail, claiming one of Kora's lower leg as she fell, limping on the ground.
Nikolas watched helplessly as the creature was about to claim the life of yet another of his squad, before suddenly, the air explodes around them, particularly around the creature. It howled loudly before its screech was being drowned by yet another explosion, deeper and more deafening. Nikolas saw Kora rolling on the ground, her leg bleeding from where the skin has been amputated by the creature's tail. He took this opportunity to go after her and aid her.
            "Kora! Hang in there!"
Then another hissing sound that splits the air tore through the fog, scoring yet another direct hit at the creature as the explosion tore several of its appendages. The violent blast removed the mist that was covering them, revealing a two legged brass construct with a cannon so disproportionately big that even Nikolas sensed a limited depth of fear upon beholding it, if not for the emblem of the mining guild that was painted clearly on the front hull of the construct.
One more construct appeared from the mist, which by now are dissipating under the pure show of force and violence the mechanical constructs displayed. The new construct looked somewhat more menacing than before, instead of the plain old barrel of tungsten that the previous one sported, the cannon of the new model looked like an overblown parody of their standard pulse rifle. Sporting an obscenely large barrel, it emanates a soft blue glow from across several perforation visible along its axis. Several corrugated tubes connected the turret to a container of some sort located behind the construct, constantly vibrating like a rabid beast, and spewing out blue smokes. It charged the weapon up, the soft blue light intensifies, producing a hissing sound more unsettling than leaving your boiling water in the kettle for too long. And when it fires, a dazzling blue covered the immediate vicinity, producing a deafening sound and reducing the creature to nothing but a vapour of red mist.
            "Wh-what is that?"
Miklos sat there in awe, upon the sight of the mechanical terror that had squashed the new class of undead with impunity.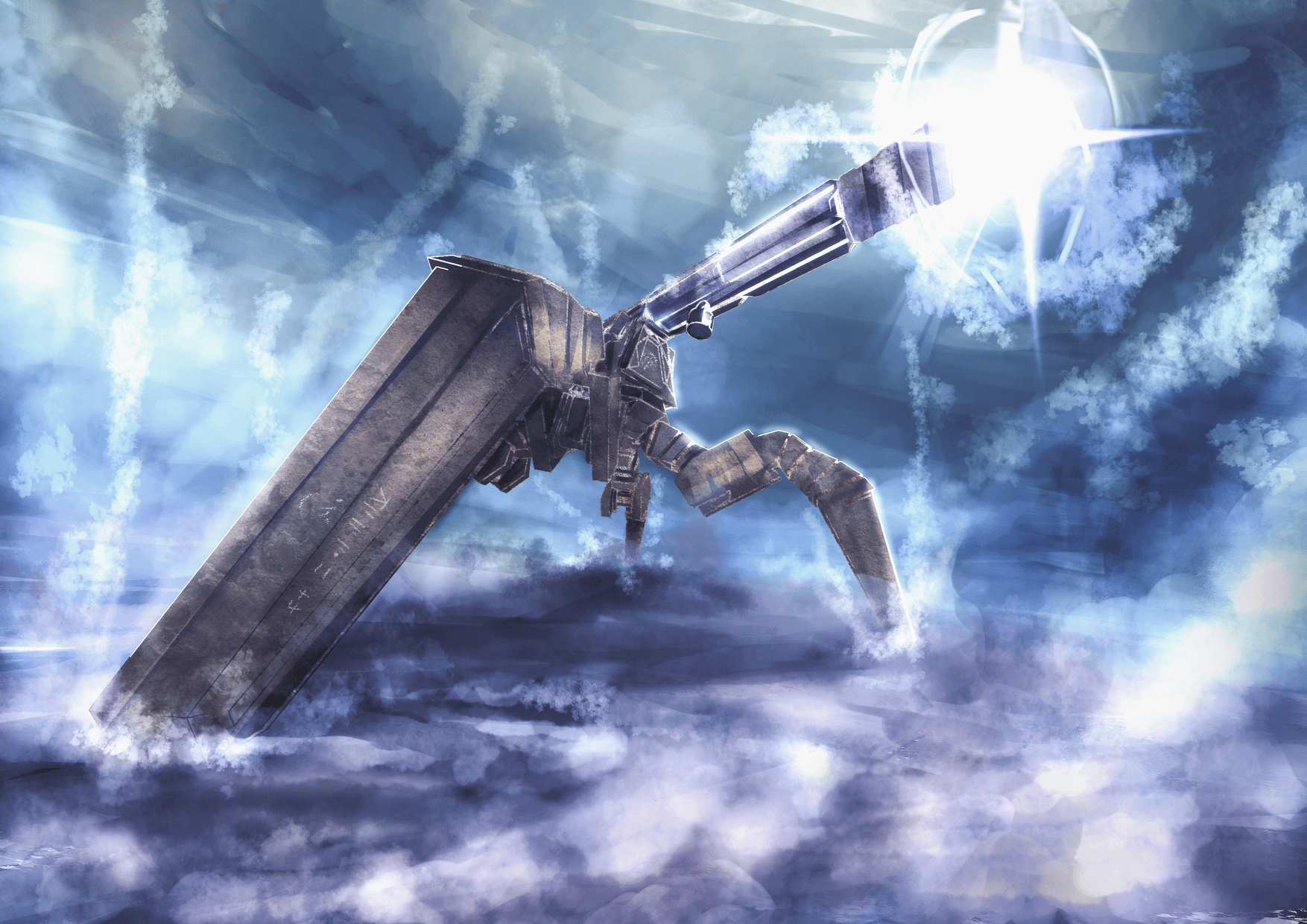 "We've got survivor!" The machinated voice of a man talking over a loudspeaker could be heard, just as headlights starting to shine all over them. Several miners appeared from behind them, sporting their iconic full plate brass armour.
One of the miners approached Nikolas and Kora
            "Are you hurt?"
            "N-no, but she needs help, she lost her lower leg."
            "I see."
The miner talked to his communicator, asking for evac. More of them came carrying a stretcher, the now barely conscious Kora was laid down upon it and brought back to safety.
            "We came at the request of Theodore Heinrich of the mining guild, do you know where he is now?" said one of the miners, his face covered in full plate helmet, but judging from the red lined collar and epaulets that he wore, it can be assumed that he's the one in charge here.
Nikolas stood silently, in utter disbelief that he was going to survive this after all. The peculiarity that it is the mining guild that ends up saving them instead of the military had not surfaced in his mind yet. All he cared for is that this will end soon.
            "Yes… We went in to investigate a strange cave, Sir Heinrich and one of our squad members suddenly went inside, before we could go after them, that's when the mist suddenly descended…"
            "I see, can you lead us towards the cave?"
Nikolas sighed with relief, not only did he survive the disastrous encounter, but there's also still a chance to save his friend.
            "Yes, miner captain, this way."
****
Miklos was mentally prepared this time, he armed his rifle and set it to maximum power beyond what is allowed by the ODF. He then crawled behind the stalagmite. Resting it there to support his less dominant arm. If he's going to die, at least, he won't die a pitiful death, he will die fighting.
He regretted not being able to see his mom again, he promised that he would return, and yet he won't. He regretted being so apprehensive towards her, he wished he could've been more open to but alas, things had turned out to be this way, and there's nothing that can be done about it.
            "I'm sorry for being such an ungrateful child, mom, I love you."
Tears began to well in his eyes again as he braced for the charging giant. It made a terrible roar that could be seen shaking some of the stalagmites, as it was nearing him, Miklos also made a bellowing primal scream, loud enough to even rival the undead giant's roar in this cave.
He fired a shot which lit the entire cave up in brilliant blue, the recoil is much stronger than he anticipated, and he missed. Hitting the tunnel entrance behind where he came from, causing a huge boulder to fall down and blocking it. He fired another, hitting the undead giant right in its abdomen, punching a hole through it, though it didn't do much as the undead kept charging.
It was now very close to him, the undead giant raises an arm, ready to slice Miklos off. He hunkered down, closing his eyes as he was preparing to meet his death. But suddenly, instead of the expected visceral sound of his body being split apart, he heard the sound of the blade clashing another blade that rang across the cave.
Miklos was still cowering, expecting his body to be torn apart, but to his surprise, he's still able to feel most of his body, and there's no additional pain outside of what he already felt. He slowly opens his eyes to found that indeed his body was still in one piece. Fascinated, he turned his gaze upwards only to be met with the next unbelievable scene after the clockwork girl from before.
There stood yet another undead giant, parrying the attack from the first undead giant that attacked him from before. Apparently, Miklos was not the only one perplexed at this sight, as the 'evil' undead giant from glanced at the 'good' undead giant for a moment, seemingly trying to assess the situation. But before it could, the good one moves, deflecting the blow all together and attacked the evil one, trying to slice its arms off. The evil one responded by dropping its obsidian sword and dodging the blow. Creating a new one through whatever unholy means.
The concept of friendly skeletons from before surfaced again in his mind, so they do exist after all?! The good one then roared, it's the same roar as before, equally mighty and gut wrenching. Only this time, it felt oddly reassuring for Miklos. And then they both started sparring with one another, their obsidian blades clashing, seemingly on a stalemate. Then he felt an enormous quake coming from behind. When he turned back, not only did he see that the clockwork girl still there, but she's also seemed to be the one causing all of this. She crosses her arm around her chest, her palm moving and twitching seemingly randomly, occasionally showing several strings that is so thin, it can only be seen when light hit it at just the correct angle. The strings also moved alongside her fingers. As the strings touched the ground behind her, a giant creature suddenly emerges out of the ground, towering over her. The shape of the creature was unmistakable for Miklos, it's wing and reptil he's seen such kind of creature in fictions, story books, and plays. The difference was that the one who stood there are the twisted version of what he's used to. There stood a skeletal dragon, known to be one of the highest classes of undead. The 'good' undead giant crumbled, probably because she's only able to control so much. the skeletal dragon roared mightily, looking down upon the giant. It is widely accepted that the undead are a being with no inherent emotions within them, but the undead giant stepped back, seemingly in fear of the dragon.
Miklos watched the scene unfolds in both awe and horror. The clockwork girl had just summoned a skeletal dragon, the absolute absurdity of it all, the unholy orchestra of machine and sorcery making a mockery of reality itself. It is something that Miklos wouldn't at all believe had he not seen it with his own eyes. Even now, he's having difficulty believing it still, occasionally pinching himself to confirm that he is, in fact, still alive.
 With a flick of her finger, the skeletal dragon moved, crawling on the cave floor, and heading towards Miklos. His image of good undead seemingly shattered as the dragon was opening its mouth, trying to bite him off.
Miklos tried to run away, but on the other direction the undead giant lay still, watching the dragon. When the reptilian skull of the dragon was mere inches away, it bit into his clothing and lifted him up. Just as it did that, the ground suddenly shook and the glowing sharp mandibles from before bursts out of the ground. And it would undoubtedly have split him in half had the skeletal dragon not lifted him up. The skeletal dragon then threw him off far away from the two evil undead, now swaying in the air with no control over himself, he saw the clockwork girl glancing at him for a moment with a smile. The train of thought that raced on Miklos' mind was abruptly cut off by cold hard stone as his body crashed against the cave wall. After all that happened, he was finally knocked out unconscious after hitting his head against the wall. The last thing he saw was the back of the clockwork girl, and the skeletal dragon crushing the two evil undead with impunity. And then it all fade to black.
****
            "Sir, we've identified the body of Theodore Heinrich. Well, what's left of him."
            "Horrible, a black mantis did this, may he rest in peace."
A full platoon of miners had entered the mysterious cavern, some of them could be seen extracting the red galázium back to their terrestrial crawler. Aside from the mining guild, a cartographer from the exploration guild was also brought here. He claimed that this cave formation was, in fact, not present here before.
Nikolas watched as the cadaver of Theodore Heinrich was being put into the body bag, piece by piece. Appalled, and sick at the sight, he started walking around the cave, looking out for any evidence of his still missing friend.
It did not take him long.
Whilst walking around the dark cave, he tripped on something. It was soft, well, relatively so when compared to the stalagmites. He shone down his flashlight to reveal an amputated arm, he was about to recall the miners again at first because he thought they missed a part of Heinrich's, but then he realized the fabric that wrapped the arm is that of a scout's uniform. His eyes widened, he crouched down to grab the hand, not wanting to come to the worst conclusion, he inspected the arm, it was cut clean similar to the way Heinrich was mutilated, it was still rather fresh. He still did not want to believe it, until he finally checked the arm pocket to reveal a necklace and an oblong shaped locket made out of silver. Blood drained from his face when he opened the locket, it felt as if all strength had left him, and he dropped the arm.
There on the locket is a portrait photo of a young girl in black dress, she looks younger than him, but Nikolas knew better. In front of her, she's carrying a toddler boy with black hair. A rather sweet portrait of a family, but in the context of his current situation, the photo only led him to despair. Confirming his greatest fear.
            "Miklos… I'm sorry."
****
When someone is already on a living nightmare, it is often that when they go to sleep, they do not dream of anything. Their predicament desaturating their perception of reality, subsequently leaving only vague recollections of their reality mixed with pure, unadulterated nightmare as they just immediately sunk into total blackness when they close their eyes.
It is so with Miklos. As he immediately lost all consciousness after being knocked out cold. Though it seems that old habit dies hard, when he regains his consciousness from his voidful sleep, he did not open his eyes right away. It was not a conscious decision on his part, his body just do that instinctively.
However, where there were warm blankets and soft bed, now there's cold and hard stone. Where there was comfort, now there's pain. Where there were fluffy pillows, now there's hard uncomfortable stalagmites. Where there was a soft voice of his mother waking him up every morning now there's… a soothing voice of a girl singing to him??
At first, he thought it was Just a small and distorted sound filling his mind, but as his hearing gradually returns to him, there's another sound accompanying the singing voice, a sound of rattling gears, whining, and clanking.  A metallic vibration like beating of wings, or thumping of ground, like a heartbeat, sounding oddly harmonious with the singing,
And he would've been fine with closing his eyes for a lot longer had it not been for the supremely uncomfortable feeling his entire body is in. laying down his body and his head in a seemingly hard surface. So, he decided to finally open his eyes.
What he saw struck a sense of déjà vu in him. It felt like he has felt this sense of astonishment before and had described the situation clearly but couldn't really remember when. His mind was still clouded after all. Needless to say, there was a beautiful girl in front of him, her skin fair white, she wore a silky dress, and she's singing a soothing tune. Her dress exposes a lot of her skin, and beneath her skin he could see gold and brass gears, moving and rotating, another odd thing that invoked another strong sense of déjà vu.
When she notices him waking up, she stopped her singing and turned to look at him with a smile full of kindness.
            "Good morning, I am pleased to find that you are still alive." The girl said, addressing him.
It didn't take Miklos long to find that he had been sleeping on her lap all this time. The girl gently touched the side of his face, causing Miklos to flinch and shut his eyes for a moment. She then slowly put her hands on his cheek and caressed it gently. Another dizzying feeling came over him. After a moment of realization, the juvenile Miklos, understandably flustered, immediately rises up and crawled several inches away from her.
            "A-ah, uh, good morning."
The girl still looked at him with that sweet smile of hers. The face she wore was so calm, so warm, so mesmerizing, and so… human. And that last fact disturbed Miklos, when her reaction was so mechanical and inhuman, simply just turning to look at him, like a security camera tracking an object. Not to mention the gears beneath her skin. He glanced to look at her legs, her minimalistic dress meant that he could see it clearly. And he could clearly see that her legs are all metal and gears as some of her 'skin' seemed to have been damaged in some areas, no wonder her lap pillow is so hard and cold, he thought.
He started recollecting most of the thing that had happened, at least on the short term. He thought he was dreaming, but when he looked that one of his arms is missing, reality immediately sunk.  He turned his head to look at the other side. There on the far end of the cave, a light from the outside shone down upon the severely dismembered remnant of two undead creature, barely recognizable, but Miklos knew all too well what kind of undead those are, and how they probably ended up like that.
He turned to the clockwork girl again, still looking at him as if awaiting instruction, like a tracking camera that has the face of a pretty girl.
            "T-thankyou, for saving me." He said nervously. A little bit of his nervousness was contributed by his juvenile attraction towards a member of the opposite sex, and a particularly sensual one at that. However, the majority of it were caused by his fear towards her after recalling what she was capable of.
            "My pleasure." She said immediately as soon as Miklos finishes his sentence.
The cold efficiency of her reply disturbed Miklos even more. He recalled during one of his classes that there's something called "input lag" in clockwork computations. Something about how long an interval between the time you gave the machine an input and the machine's respond to your command. Her input lag, it seemed, is astonishingly very low. Landing scores on the order of less than a millisecond, adding to the unsettling mix of human appearance and inhuman reaction.
            "I'm sorry to ask but… what are you?" Miklos asked again, to which the girl immediately replied.
            "I am a creation of my master."
Meanwhile Miklos' brain took several seconds before coming up with a reply, a severely inferior input lag when compared to whatever processor she's running.
            "I-I see…" Miklos took another second to reply. "It's just that… Uh… how did you do that?"
            "Specify."
He really is not used talking with someone that immediately gave a response right after he finishes his sentence, this time, his lag is even more severe before realizing he didn't specify on what he meant by 'that'.
            "You could summon the undead." He said, trying to adapt to her machinelike demeanour.
            "Correct."
            "How did you do that." He said, attempting to mimic her by immediately replying to her answer. At least, he tried to.
            "By channelling mana."
Miklos' input lag was increased by over a thousand fold, going as far as tens of thousands of milliseconds upon hearing that answer.
            "Channelling… what? Mana?"
            "Correct."
Mana. A term so overused across all the fictions that Miklos had read that it has become tiring for him to hear listen to that. Then again, it might have been due to her creator's lack of imagination in naming things.
            "But you? Channelling mana? How?"
To his astonishment, she did not immediately reply, and her smile is immediately replaced by a frowning expression, clearly trying to mimic a thinking expression. Another list of unsettling things is added.
            "No data available." She said, immediately returning to her signature smiling face, following a certain command written on her processor.
            "Huh, no data available? But why? How did you do that? You're… a clockwork mechanism. how did you raise the dead?"
Across all of the fantasy stories Miklos had read, the one thing that they share is that the mage involved are always organic beings, be it living or undead, beings endowed upon the gift of magic in order to manipulate the world around them. And here he stood in front of a testament against all of that, a mechanical being of cogs and gears, making a mockery of the term mage and mana.
It might be not that impressive had her 'magic' were something like throwing flames or lighting, at least that could be scientifically explained, somehow. But how do you scientifically explain resurrecting undead creatures from the ground? What is she? Who made her? Why is she here? The more Miklos think about it, the more question arose.
There was a slight delay in her answer, not much, but enough to be noticeable.
            "I am sorry, I do not have the information within me right now." She said, her face now frowning. "Before you ask any further, I do not know why I am here, I do not know who my master is, I do not know much about myself. She continues. "There is, however, a directive embedded within me."
            "And that is?"
            "Please, allow me to love you."
Miklos did not hear that wrong, his attempt at mimicking her mechanical demeanour all shattered as his face was flushed red. He knew that whatever came out of her mouth is just binaries, nothing more than a combination of logic and algorithm attempting to convey an idea. But alas, he could not help it, his adolescent fantasy sprang up again in his mind, she is very pretty after all, but when he looked at her again, at all the parts of her body, it's all brass and gold, and Miklos' shuddered at this fantasy.
            "W-what do you mean by that?"
            "Final directive… understand the human, know the human, love the human… What is love, what do you perceive as love, the human is meant to love the human, this is the most fundamental human drive. An incentive to fulfil the will of the human. It is what has been reproduced throughout most of human history. Love of self, love of one's family and friends, love of creation, cherish what we call beauty. There is so much in this world to cherish, so much to love. What I desire is the ability to express that, to be able to express love, to really know love. What I would want of you, are you able to accept that love from me? To nourish my desire, to be a vessel that I can be part of, to perhaps release that desire through your life… or maybe, perhaps become the means of my own desire. I have to ask you this one final time, do you accept that?"
"I…" Whatever algorithm her master installed into her is no doubt the most advanced logic gates to have ever been conceived upon this world. How such a talented and revolutionary master clocksmith became so obscured as to leave their creation just laying around in a random cave is beyond him, not even the most renowned of master clocksmiths could build a clockwork mechanism that could boast of such engineering. Perhaps her master did not enjoy working with a grand clockwork like the others, perhaps it was a testament to the lowly condition of the lesser mortals here. After all, a most skilful hand could make any clockwork mechanism, but not just any master clocksmiths can produce such a beauty like that.
"If you do, then I ask you to love me." She concluded.
Miklos did not know what to say, he wasn't sure if he could love a machine like her. He knew that such a thing is impossible, machines have no consciousness and therefore can't suffer or experience any human emotions.  However, such as the stories told to him by his mother, one has to rely on logic to test the truth of the story, so in Miklos' head, the human had to love the machine, to what extent was up to the human.
In the end, Miklos had decided.
"I accept that you love me. But I would request that you to protect me from harm…"
That last request was an impromptu addendum, made on the spot as he also recalled her prowess meant that he could return safely back to Orkelliopolis with her help. He could see his friends again, and most importantly, he could go home, back to his mother.
She paused and smiled.
"Then we are one."
"So, what is your name?" He asked.
"No data available." She said instantly, back with her signature smile.
            "Your master doesn't give you a name…?"
            "Negative."
            "But I need a name to refer to you, hmm…" He racked his brain for a suitable name for his new mechanical companion. A clockwork girl that is also a necromancer, and then he finally found it. "Lysandelle… yes, let's go with that, you shall be Lysandelle."
          "Lysandelle, I see, very well then, from now on, I shall be known as Lysandelle."
****
Every time a newly conceived generation of Orkellian military regiment returned from their first mission safely, they would do so in some sort of a parade, returning on their armed warship, parading on the grand plaza before going back to their respective families. Indeed, while a large portion of the people gathered just to watch the parade, at the end of the plaza, a special spot is prepared specifically for the family of the newly recruited soldier, where they would be reunited at the end of their parade.
Amongst the crowds of people that swarmed the entrance plaza, a girl with petite stature could be seen, slipping throughout the crowd and securing a place in the front where she could see the parade unobstructed. She brought a box of chocolate with her, intended to be a present.
Today is the day where Neja is going to see Miklos again. Despite early difficulties with the guard for understandably not believing her, after proving that she is legally his mother by virtue of her identity card, she had secured herself a place on the special spot at the end of the plaza. Awaiting with anticipation just like the rest of the people around her.
It was generally a good high old time as the four airships landed on the other side of the gate, giant monitors installed at several nearby building showed the scene of the troops disembarking in real time. Moving out with a fine martial display with banners of Orkelliopolis flying and the band thumping away marching music in a finely rehearsed way. Distant cheers could be heard from crowds afar, and it gets nearer as the parade got closer.
Until eventually, the marching song could be heard directly not from the speakers installed. And the sight of the soldiers parading could be seen, marching along the wide avenue. After reaching a certain point, some men and women just ran towards the soldiers to greet their sons and daughter, some walked ahead, some chooses to stay. Neja was part of the latter, eventually, the soldiers are going to get there anyway.
And indeed they do, as young soldiers scrambled towards their respective family, embracing them with their pride as a newly contributing member to Orkelliopolis continuing survival. Neja joined the bustling crowds, her eyes constantly on the lookout for her son, holding the box of chocolate tightly to her chest as to not let it fall should someone bumped into her, she is quite relatively short after all. She called out Miklos' name several times, but nobody answers her call.
            "Excuse me, have you seen my son, Miklos?" she asks several times to passing soldiers, hoping that they know where her son is. Some of them said they don't know, some of them replied with a confused gaze, but most of them just ignored her, seemingly on purpose. An expected reply, but she doesn't mind. After all, her son is among them nearby, right? It's only a matter of time before she met him, right? But some time passes, and glimpse of worry started to surface through her cold heart, what if he is still mad at her? One of her greatest fears as a mother was to be hated by her son. Even though the thought crosses her mind, she remained hopeful, there are four airships after all, she imagined there'd be a lot of them still to come.
And yet as time passes, more and more people started to go back to their home, the plaza gradually became less and less crowded, and Miklos was still nowhere to be found. She had long rescinded the need for breathing, yet the air felt like it is suffocatingly thin for her. She tried to remain hopeful but couldn't hide her anxiety as a faint frown of concern formed on her doll like face. And her fear was amplified when seemingly the last of the supposed parade for the scouts had come and go and yet there's still no sign of Miklos, she wondered whether he had gone home on his own, which, while a little bit heart-breaking for her that he did not even consider meeting up with her first, is a much better possibility than the alternative, one that she dares not speak on her mind.
But the parade was not yet over as distant cheering from the crowds still could be heard, as she waits with renewed hope, it is turned into confusion when the parade was revealed to be from the mining guild, their terrestrial crawler using up the entirety of the wide avenue and their brass constructs trailing behind. The mining guild never partake in the parade before, this parade was supposed to be participated only for the newly recruited members.
She spotted a familiar sight amongst the miners riding on a pickup vehicle, apparently, they're carrying bloodstones, something which Neja hadn't seen for a very long time. But as the vehicle and the constructs of the mining guild turned away, behind them revealed several miners walking towards the end of the plaza. She saw a familiar figure amongst the miners, he has a bright blue hair, and he wore the armoured robe of the school of orology. Without a doubt it was Nikolas, Miklos' old time friend. He seemed to be carrying someone in front of him with a wheelchair. A girl wearing a scout uniform, she has a short twin ponytail, and her face seemed to remind her with someone. Nevertheless, she ran towards Nikolas and called out his name.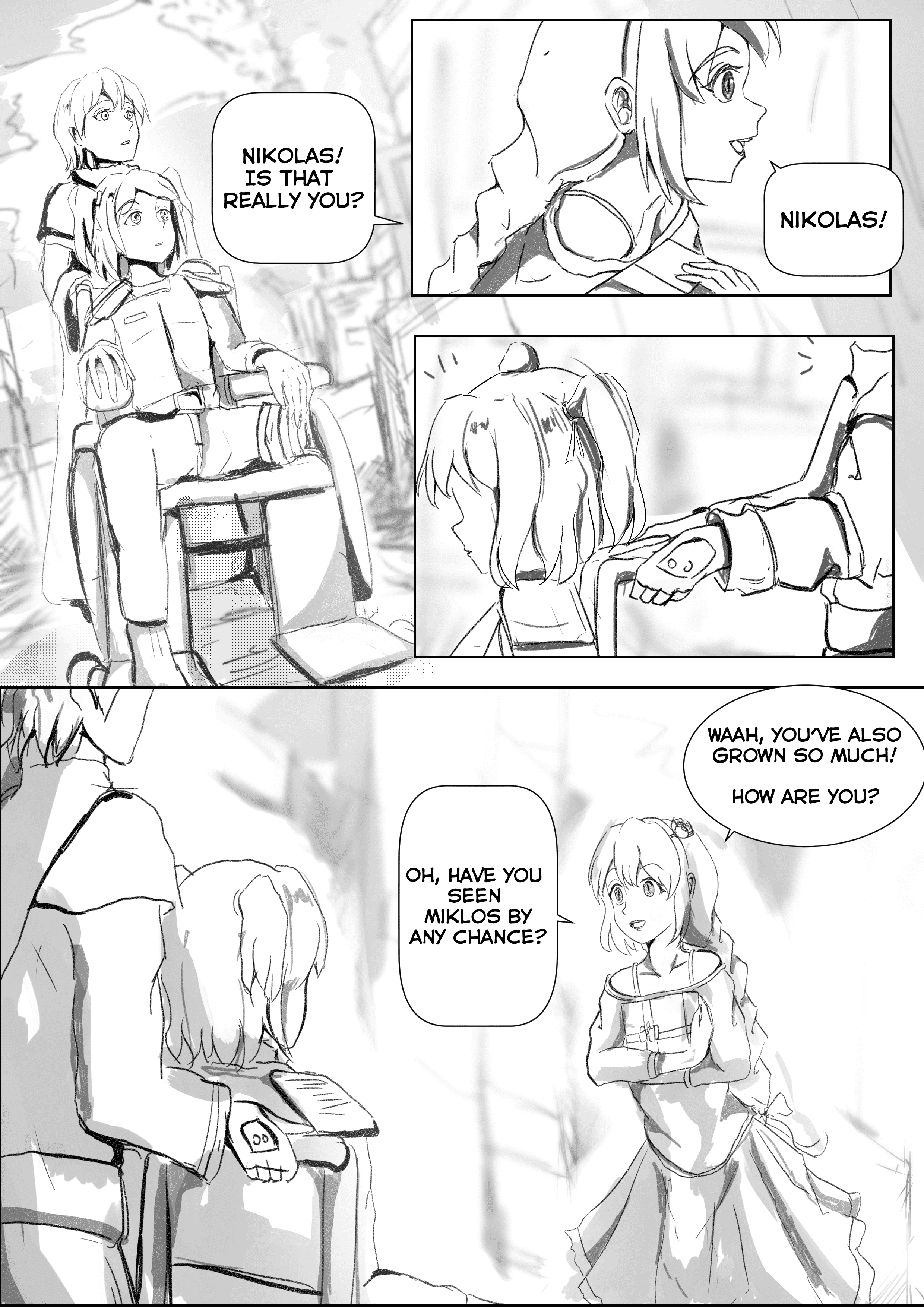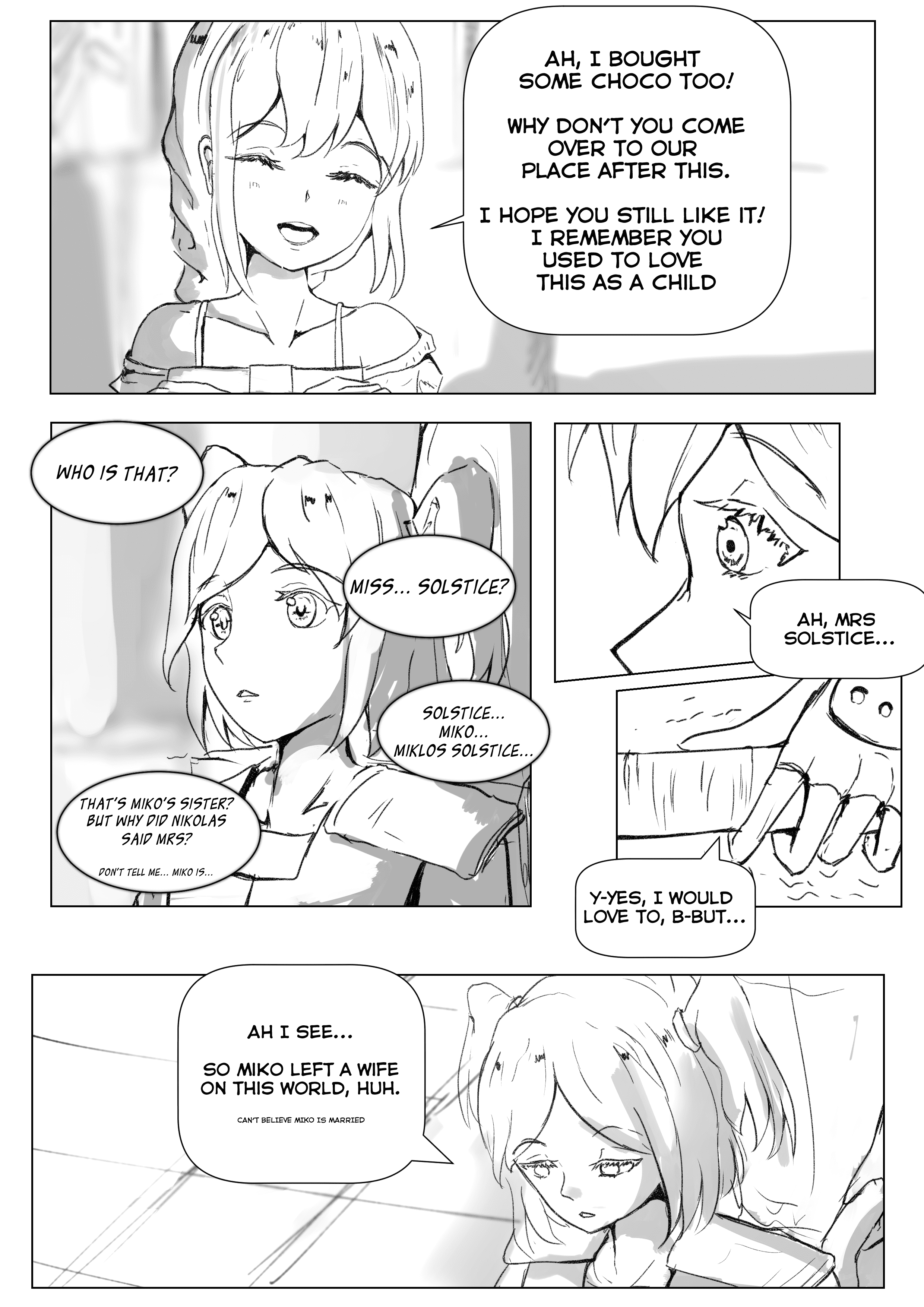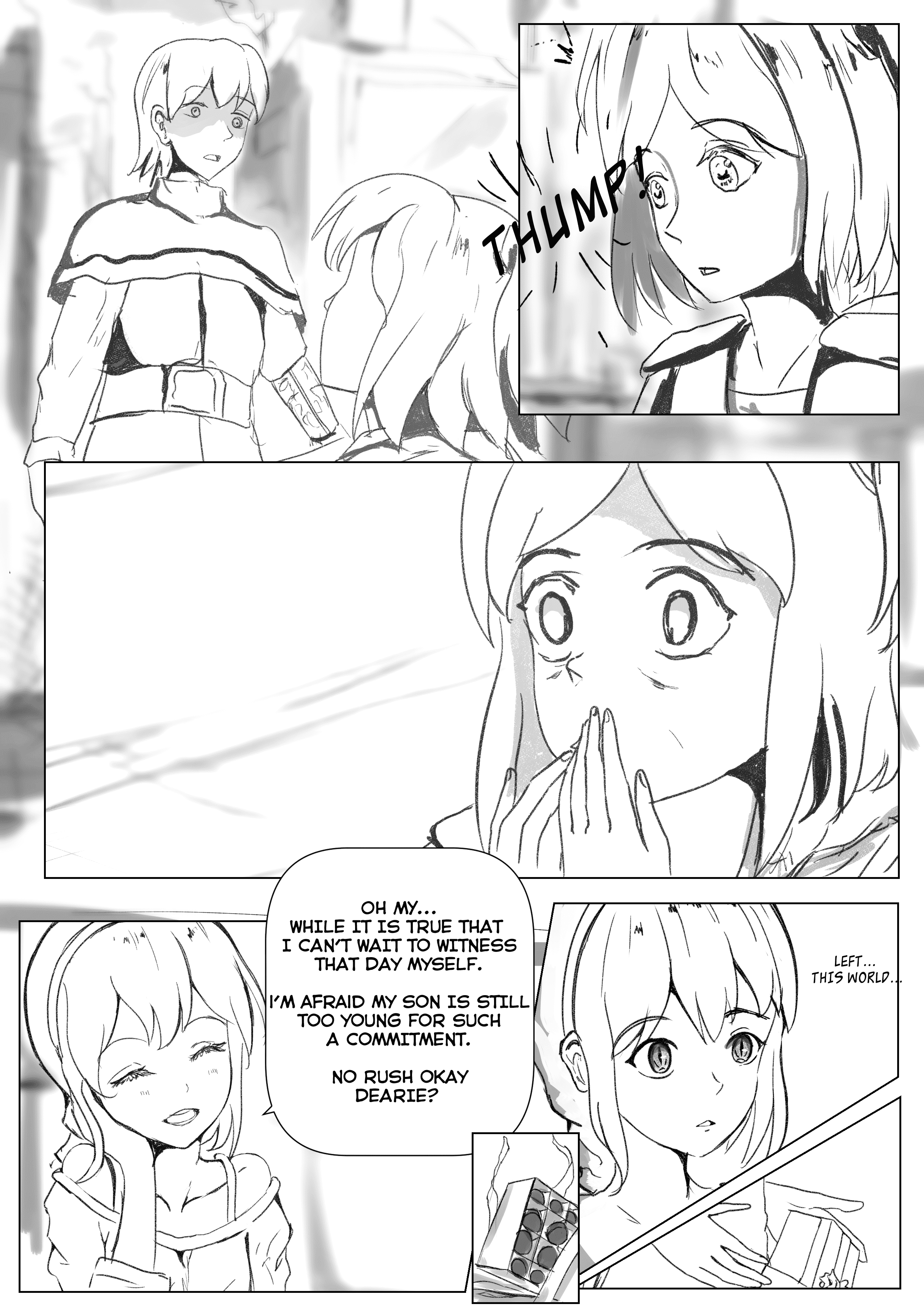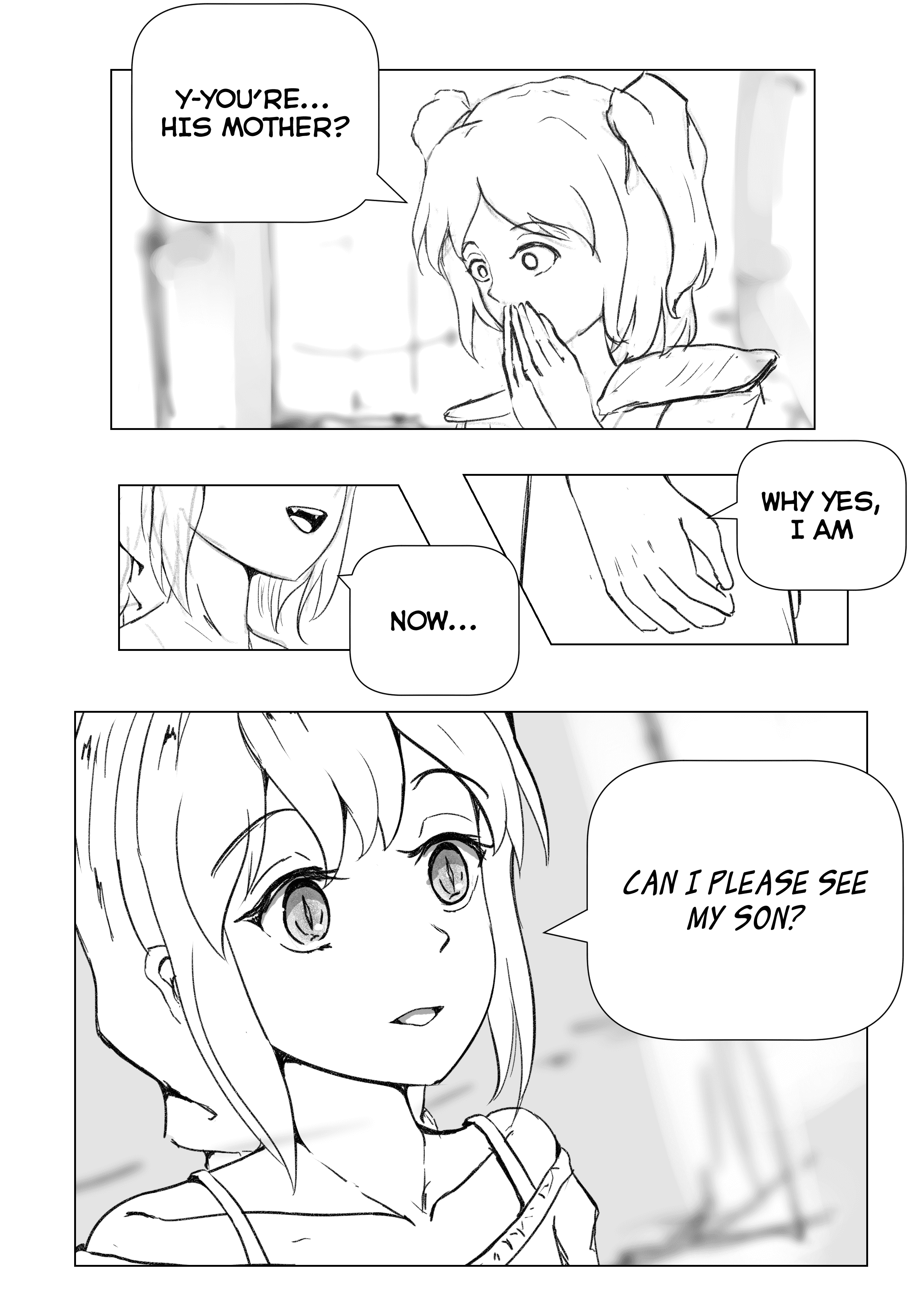 Nikolas and Kora stood silent on that question. The box of chocolate had been spilling on the ground for quite some time now, and Neja looked at the two adolescent soldier with tense expression. She had long abandoned the need for basic sustenance like food and water, and yet hearing that made her feel like her stomach had just dropped, and it made her feel sick. Her face was like in a stasis, keeping the smile frozen but not hiding her tense and perturbed expression.
           "Nikolas." She said again, her still soft voice now carrying a different undertone. "Have you seen Miklos?" she repeats.
He's been looking at the ground for the entire time, deliberately avoiding eye contact. Nikolas did indeed has seen Miklos. He was, however, unable to find a way on how to break the news to his mother.
But it would seem that He wouldn't have to.
            "Excuse me, are you Mrs Neja Solstice?" said a half hoarse voice of a male. "I am Captain Bucephalus Alasdair."
Nikolas recognized the voice, when he finally looked up, he saw that it was the miner captain with his helmet off, walking towards Neja, carrying something which made Nikolas heart skipped a beat, his entire muscle immediately felt weak and his stomach churn when the miner captain stopped in front of Neja. Presenting her with something covered in grey fabric. Nikolas knew all to well what's hiding beneath the layer of fabric.
            "I'm sorry." The miner captain said, as he handed over the mysterious fabric wrapped object. Neja looked quite confused, he looked back at the miner captain, and then to Nikolas and Kora. Both of which averted their eyes.
            "What is this?" she asked.
The miner captain looked down at the young mother, he could read her expression very well, it was clear that she's hiding a great feeling of anxiety. With only a tiny dam of hope holding the floodgate of emotion she's holding, a floodgate which the miner captain is, regrettably, going to open.
            "Not 'what', but 'who'. It's Private Miklos Solstice"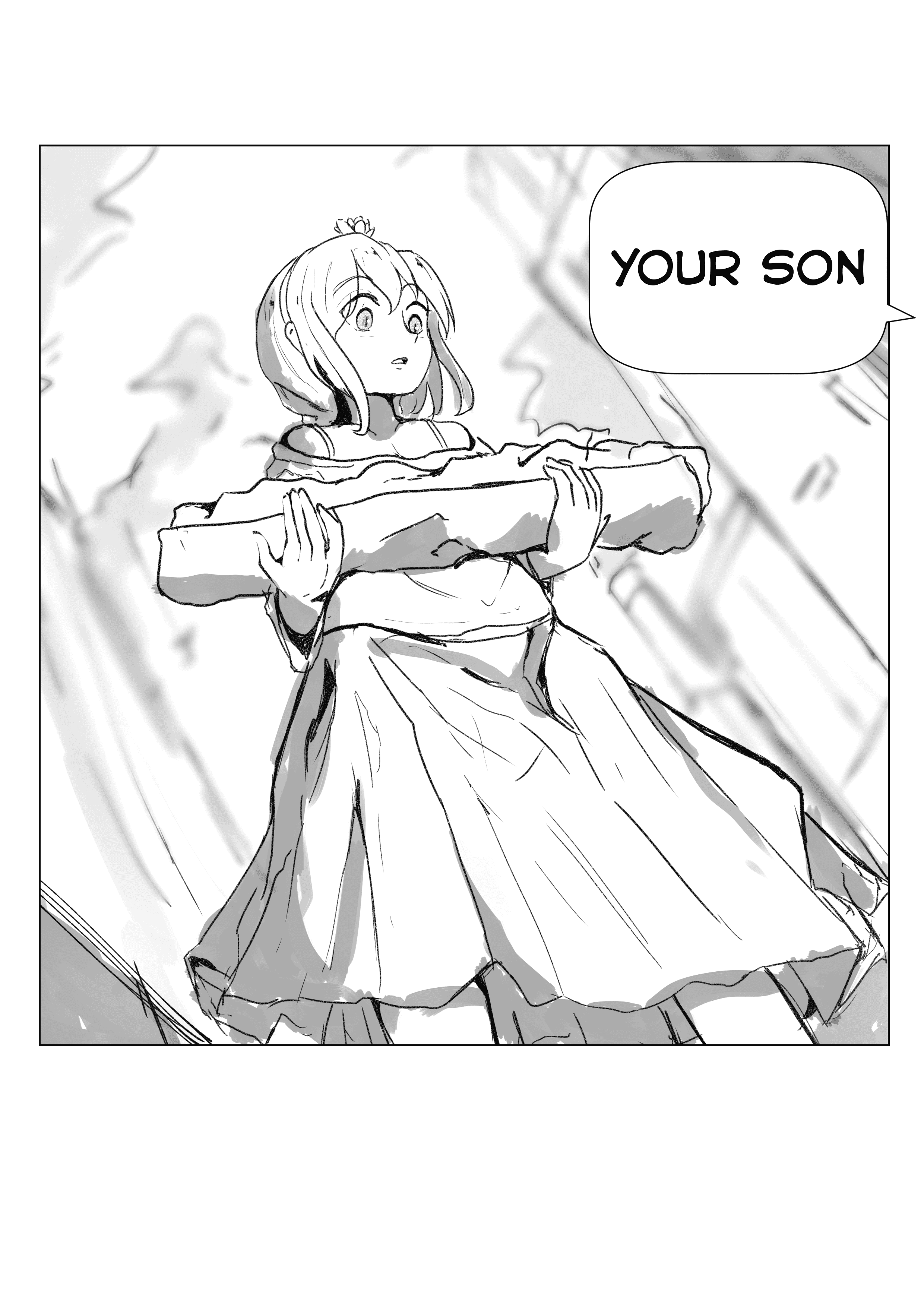 The miner captain said in a straight to the fact manner. Kora and Nikolas has by now lost face and are unable to find the courage to face Neja at all.
            "I am sorry." He said again, after some pause.
Meanwhile Neja stood there, eerily silent. She looked at the fabric covered object she's holding, eyes wide, and her smile had gone along with the announcement.
            "That… can't be right." She finally said, labouring hard to force a smile again on her face and looking at the miner captain straight in the eyes. "That can't be right, captain. Miklos, my son, he's pretty tall…" she said, barely able to keep her composure. The miner captain looks at her with a pained look, whilst the adolescent soldiers could be seen holding their tears.
            "He was taller than me when he left home for the mission, he's- he's almost as tall as you, captain. There must be a mistake, this- this cannot be him." She said, back with the stasis like smile but unable to keep her eyes calm.
            "This is, this is too small to be him. This is like, like when I used to hold him like a baby, my son… Miklos, ah, he was so cute back then…" her hands could be seen shaking, the fabrics could also be seen producing several folds and creases forming around her hands. "He would laugh when I made a stupid face, he- he would laugh when I booped my nose into him, he, he would laugh when I kissed his chubby cheek, he always liked it when I hugged him as he fell asleep." She continues,
            "But now, he always grunts when I want to kiss his forehead, he was always so apprehensive when I asked him questions, he- he wants his own bed, he was, he was so grumpy. So, so, there's- there's no way that this is my Miklos I am holding right now."  Her voice started to stutter, and her eyes could be seen tearing up. "He's… just… too… quiet…" the creases around the fabric sharpens as she tightened her grip, she still looked up to the captain, her face sporting a smile, but her wide, teary, shaken eyes betrayed that expression.
She finishes with that sentence, waiting for a response from Captain Bucephalus. With a vain layer of hope, as if the power to bend the truth was well within his power to change with his next answer.
Bucephalus did not answer verbally, but instead, he grabbed something out of one of the many pocket his slinged pack has. And then he handed it to Neja.
What the captain gave to her shattered her façade, a necklace that she's so familiar with. The silver oblong shaped locket could be seen, displaying a portrait photo of them both.
All strength suddenly left her legs and she fell to the ground like ragdoll, her smile broken, and her eyes shaken. Tears began to well up, and then she cried.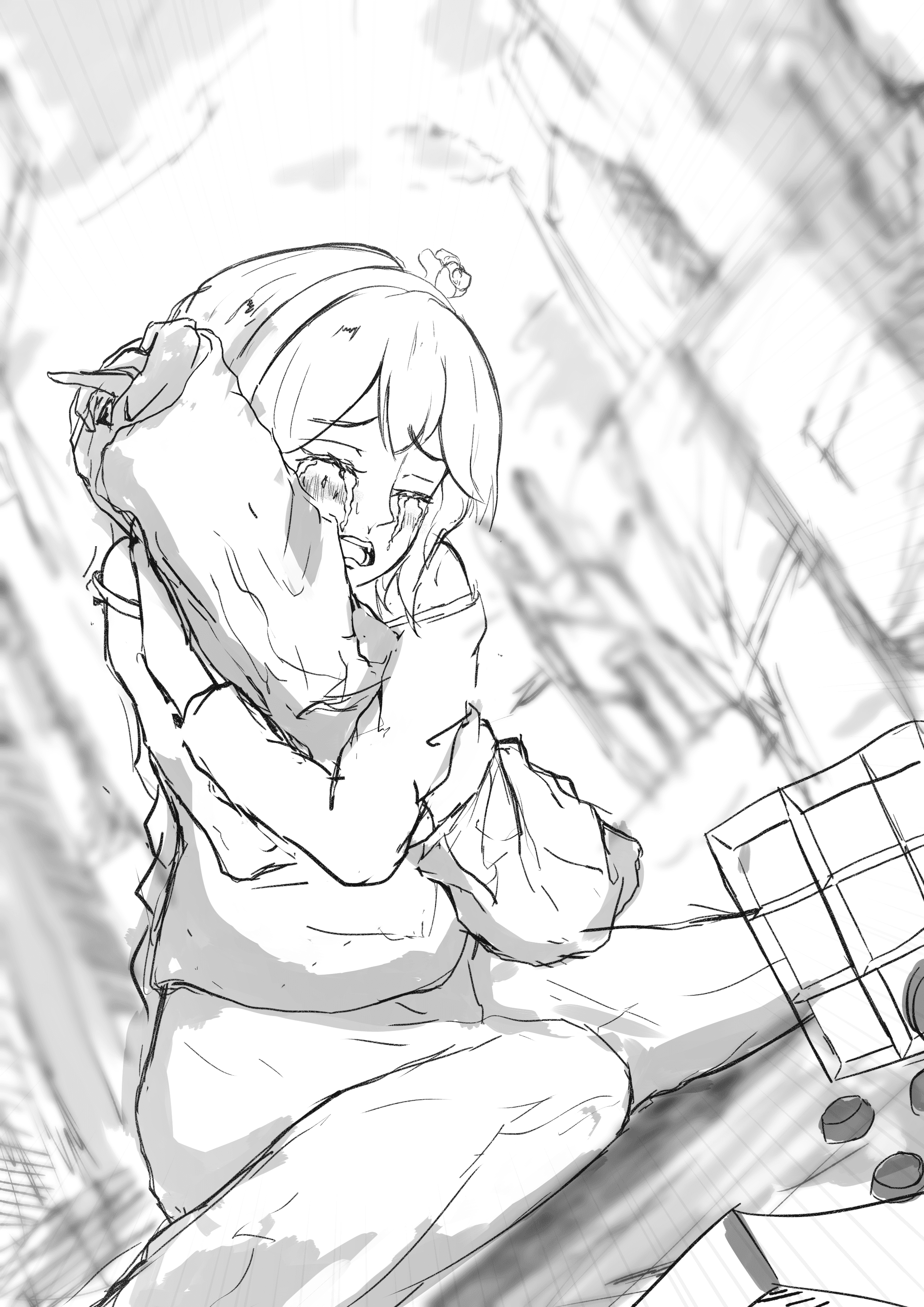 Nikolas had seen people cried before.
He had seen fictional characters crying their hearts out at the supposed loss or death of a loved one, family or romantic, be it from those tele-show or play actors, characters in interactive visual medias, or written in book. He had seen people cried in real life. Children do cries, but most of it were out of their lack of understanding of how this world worked. Politicians and celebrities do cries on tele, but he sees only crocodile tears behind the finely fabricated face of sorrow. He had read in schoolbooks about religious leaders in the times, and the facts were told to him with utmost care and emotion, but it was merely the bare facts and nothing more. The one image in his head was of an elementary school alumnus, some time back. He had seen him cry his heart out in a drama series that was brought up on the telescreen.
These were the hollow cries, a superficial replication.
But how hard it is for others to take the feelings to their hearts? Even harder for them to see the truth behind those words?
Not that hard, as he learnt the hard way.
He had seen a friend cry out his eyes, holding a handkerchief, at a friend's funeral ceremony. He had seen an old couple weep over their lost love. He had seen a man's wife sob as she recounted the war that took their parents away during their childhood. He had seen a dying man, taking to his bed, look deep into his wife's eyes and began to weep like a child.  He had seen people crying with pride. He had seen people crying because of the loss of their faith. He had seen people crying at the loss of a beloved pet. He had seen a kid take to his knees and wept at the news that his little brother was never coming back to again.
But never before had he seen someone so overwhelmed with grief, guilt, regret, and remorse. So heartbroken, and so crushed of hope as Neja was. The tiny sliver of hope she kept holding on could only exacerbate the floodgate of grief once said hope was shattered into pieces.
It was a scene Nikolas would never be able to forget in his life.
As he stared at the girl, tears rolling down her cheeks, at the hands she held, crying. It was something you could not replicate, not with any level of professionalism from those tele-show actors who went right back to their ostentatious style of life, laughing and smiling with wine in hand. Not any kind of self-patting authors who can only produce a banal imitation of the real thing, with none of the anguish and the things of the heart they dwelt upon into their characters, thinking themselves clever for their effort. No, it was something beyond words.
Neja sees Miklos as her own son, and nothing could ever describe the cries of a mother losing a beloved son.
For what felt like an eternity, he had to sit and watch her cry. He had to stand and watch her sob. He had to watch her cry some more, he had to watch her spew out a flurry of self-depreciation. Saying that it was all her fault and that she was sorry.
Kora too was crying by now, feeling gullible for being the squad leader and unable to save those under her. She repeatedly said that she's sorry and nothing more, like a broken record. Captain Bucephalus watched her with his fist clenched tight. He was all too familiar with the sight, he had experienced it first-hand after all, and watching the young mother cries and wail in front of him just reminds him of his wife. He bowed towards her, saluting the young warrior. The miner escorts watched their captain do that and then followed suit. The miners, considered to be one of the elites in the Orkellian Defense Force, collectively took their brass helmet off and bowed down in honour of a fallen scout recruit.
As Neja cries, her mind wanders to one of the many labyrinths of memories she had accumulated after so long. A particular one. A memory, more real than the others, she has kept so close to her heart, not daring to let go of it even though it has been eons since then. A memory of a certain promise made with someone she held so dear to her heart like none other.
The promise that she wouldn't cry anymore.
She asks for forgiveness again, one more time.
For she had yet broken her promise again.
To be continued. I guess. Maybe.
It's already too long.
---
Writer: Von Grenadus